State marker commemorates original Petersburg church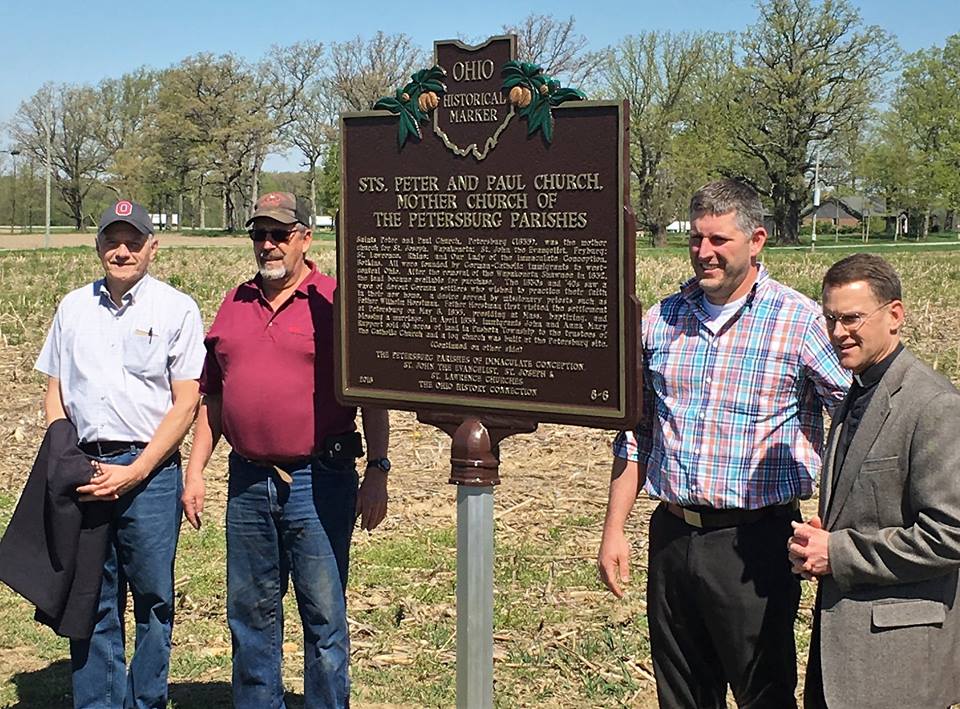 A shorter version of this story appeared in our July, 2018 print edition.
The eighth Ohio Historical Marker in Auglaize County debuted on May 8 when Father Patrick Sloneker and church historian Mike Gerlich unveiled the sign marking the site of Sts. Peter and Paul Church.
The mother church of the Petersburg Parishes (Immaculate Conception, Botkins;, St. John the Evangelist, Fryburg; St. Joseph, Wapakoneta; and St. Lawrence, Rhine) the church was founded in 1835 and dissolved in 1897. It was built by German immigrants, who had previously been served by visiting priests.
Mike and Adam Ruppert, direct descendants of the family who purchased the land for Sts. Peter and Paul, also attended the unveiling.
Father Sloneker proposed creating the parish region in 2009, when he was pastor of Immaculate Conception and St. Lawrence, and coined the name "Petersburg Parishes." The region became a reality in 2014. After 16 years in the area, Father Sloneker was reassigned to Incarnation parish, but was able to be part of the sign's erection and celebration before beginning his new post.
The sign is at located at Santa Fe-New Knoxville Road, east of Cemetery Road, in Pusheta Township, next to the stone monument for Petersburg Cemetery.