Terry Malone, Badin High icon, passes away at age 83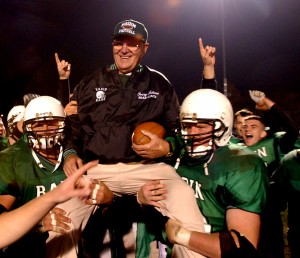 Terry Malone was not just a Hall of Fame football coach, but a driving force behind the success of Stephen T. Badin High School in Hamilton.
Malone, 83, passed away early Saturday morning at Mercy Hospital Fairfield following scheduled open heart surgery on Friday. He had been suffering from congestive heart failure.
"I hope people think that we had a positive program," Malone said when asked about his football legacy prior to his retirement from coaching in 2003. "There have been a lot of good people come out of it. There are plenty of examples of that. A lot of success stories. I feel good about that."
Malone guided Badin, and its predecessor school, Hamilton Catholic, to 360 wins during his 46-year coaching career that concluded with a 45-7 triumph over North College Hill on October 24, 2003. He got a victory ride off the field from his victorious players that night.
"To say that Terry Malone had a huge impact on Badin High School is an understatement," said BHS Principal Brian Pendergest '90. "For the vast majority of Badin alumni, Terry Malone is Badin High School.
"Everybody thinks of Terry as a football coach," Pendergest added, "but he was first and foremost a teacher. He took a lot of pride in teaching. Terry Malone put Badin High School on the map – it's as simple as that."
When Malone retired following the 2003 season, he was the winningest coach in the history of Ohio High School football with a record of 360-117-8. He guided Badin to 16 playoff appearances, and three trips to the state title game.
The Rams lost the 1978 Class AA state finals to Brookfield, 28-0. They bowed in the 1980 Division III state title game to Cleveland Benedictine, 9-3. The third time was the charm, however, as Badin downed Richfield Revere in the 1990 Division III state championship game, 16-6.
"I've had a lot of great memories," Malone said in the Badin alumni newsletter in 2003. "I think we've emphasized fundamental, basic football. You can win in high school doing that. That's what we've done here."
Dean Wright, a 1965 graduate of Hamilton Catholic High, played for Malone and then came back as an assistant coach with Malone for 37 seasons. He agreed with Malone's assessment of simplicity.
"I think of a couple of things," Wright said Saturday. "He never put on any false airs – you always knew where you stood with him. And he always made it very clear what the goal was. He made things very, very digestible and simple to understand.
"We did what we did," Wright added of the emphasis on execution that was a hallmark of Malone teams. "Terry Malone earned an undying and unimpeachable loyalty from his players over the years. Just a lot of respect."
And Wright echoed Pendergest's remark about Malone as a teacher. In fact, even after retiring from the football field at age 70, Malone continued to teach U.S. History for another year at Badin.
"He never described himself as a coach," Wright said. "He always said he was a teacher. And many people would say he was the best teacher they ever had – in the classroom and on the football field."
Malone graduated from Hamilton Catholic High in 1952, and earned his college degree at Xavier University, where he was an All-Irish/All-Catholic All American on the gridiron in 1956. He came back to HCHS as an assistant coach for one year, and was named head coach for the 1958 season.
In eight seasons at Hamilton Catholic, Malone's Rams were 63-12-1. In 38 years at Badin following the merger of Hamilton Catholic (all boys) and Notre Dame High (all girls) to open the 1966-67 school year, the Rams went 280-90-7 in the regular season and 17-15 in the playoffs.
Malone always recalled a woman who was shouting at him from the stands during the third game of the 1958 season, his first home game as a rookie head coach, telling Malone he would not be around as the head man the following season.
"I guess I fooled her a little bit," he said with a laugh.
Malone coached seven unbeaten/untied regular season squads, one team that went 8-0-2 (1968) and 14 teams that lost only one regular season game. His unblemished regular season squads included Hamilton Catholic in 1959 (9-0), 1961 (10-0), 1964 (10-0), and 1965 (10-0); and Badin in 1966 (9-0), 1978 (10-0) and 1980 (10-0).
Malone called his favorite memory winning the 1990 state title. Other meaningful games he would point to were a 1972 triumph over Roger Bacon and its legendary coach, Bron Bacevich; a 1968 tally over Fairfield High in front of a huge crowd at Garfield High School; a 20-0 verdict over vaunted Princeton at Fairfield Stadium in 1969; and a 28-14 victory over Hamilton High in 1980 at Middletown's Barnitz Stadium before one of the largest crowds in Butler County football history.
Malone was able to enjoy a 50th anniversary reunion with the 1966 unbeaten Rams, Badin's first-ever football team, on Oct. 22 this past season before Badin's game with Dayton Chaminade-Julienne.
Malone was a member of several Halls of Fame, including the Badin, Butler County, Buddy LaRosa Greater Cincinnati and Ohio High School groups. In 2004, he earned a Lifetime Achievement Award from the Greater Hamilton Chamber of Commerce. He was inducted into the Badin Hall of Honor in 2014.
Malone and his wife, Betty, were the parents of 10 children and lived in Hamilton. His wife preceded him in death in 1997. One child, Terry, is also deceased. Visitation and funeral arrangements for Terry Malone are pending.
Badin's Pendergest marveled at the fact that at one point during his Badin career, Malone served – at the same time – as vice principal, athletic director, history teacher and head football coach.
"We were blessed to have him as part of the Badin family for so many years," Pendergest said. "When most people think of Badin High School, they think of Terry Malone."