Thousands attend Catholic Schools Unity Mass in Dayton
By Steve Trosley
DAYTON – More than 9,000 students from more than 30 Catholic schools in the 12 northernmost counties of the archdiocese gathered in Dayton Wednesday morning for the first annual Unity Mass.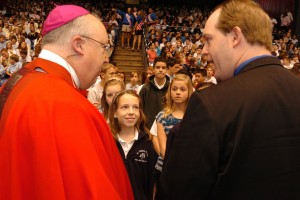 More than two dozen archdiocesan priests concelebrated the Mass with Auxiliary Bishop Joseph Binzer in the University of Dayton Area.
"This is awesome," Bishop Binzer told the students as Mass began.
Students from schools from as far north as Celina and Sidney attended with students from the Dayton area and from as far south as Butler and Warren counties. The Mass was sponsored by the archdiocesan Office of Educational Services. The students were joined by teachers, priests and deacons and lay members of the community and archdiocesan staff.
The event was supported by private donations. The event was the brainchild of Kathleen Stechschulte and Julie Taylor who are both from St. Albert the Great Parish in Dayton. Dr. Jim Rigg, archdiocese of Cincinnati schools superintendent gave them special recognition for their vision.