Three Glenmary novices make First Oaths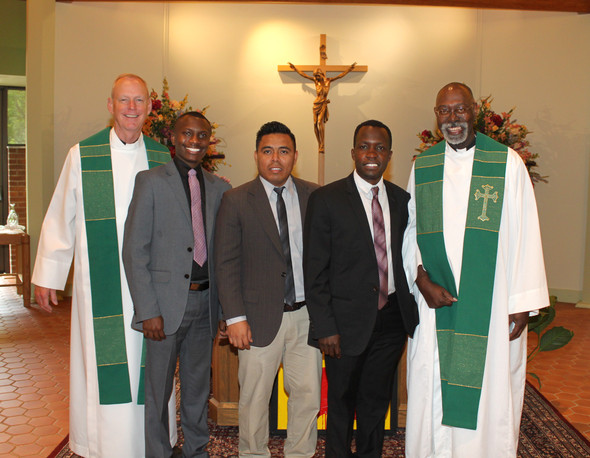 CHARLESTON, W.Va. — Three men made their First Oath and became members of Glenmary Home Missioners during Mass June 8 at Glenmary's annual Assembly in Charleston, W.Va.
Jose Carlos Miguel Lopez, Samuel Mungai and Kenneth Wandera each recited and signed the Glenmary Oath, promising for a period of one year to dedicate themselves to "the missionary apostolate in the rural areas and small towns of the United States and to the Glenmary way of life." The oath also commits them to a special practice of poverty, chastity, obedience and prayer. A month earlier, two men in formation made their Third Oath in separate ceremonies.
Jose is from Chiapas, Mexico. Samuel and Kenneth are from Nakuru and Busia, Kenya, respectively.
All three men are studying to become Glenmary priests. Taking their First Oath officially makes the former novices members of the society. As they continue their formation, the men will renew their oaths at least three times before becoming eligible to profess their Final Oath, which is a lifetime commitment.
Glenmary president Father Chet Artysiewicz celebrated the Mass and administered the oaths at the Diocese of Wheeling-Charleston's John XXIII Pastoral Center chapel. Novice directors Father Tom Kirkendoll and Father Dan Dorsey concelebrated, along with most of the Glenmary priests in attendance.
"It is always exciting to see young men make the first commitment on this journey," Father Chet said. "With these three especially, they've come from other countries and left a lot behind. They left everything that was familiar to embrace the mission."
In May, two Glenmary men in formation, Charles Aketch and Richard Toboso, professed their third temporary oath. Both are studying for the priesthood and will be eligible to make their Final Oath in 2018.
Glenmary Home Missioners (aka the Home Missioners of America) are a Catholic society of priests and brothers who, along with coworkers, are dedicated to serving the spiritual and material needs of people living in mission counties throughout Appalachia and the South. Learn more at Glenmary.org.
For more on this story click here