Throwback Thursday: Archbishop Leibold Home dedicated 40 years ago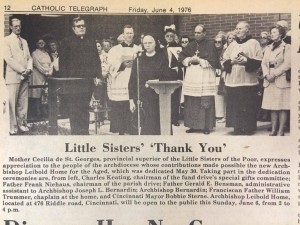 Just more than 40 years ago, the Little Sisters of the Poor, appeared on page 12 of The Catholic Telegraph in a story about the dedication of the Archbishop Leibold Home for the Aged.
That photo marks today's #ThrowbackThursday. Pictured at a microphone is Mother Cecilia de St. Georges, then provincial superior of the Little Sisters of the Poor. Mother is speaking at the May 30, 1976 dedication of the new home for the aged, thanking the people of the archdiocese whose contributions made the home's construction possible.
The operation, now called St. Paul's Archbishop Leibold Home, still operates from its original site on Riddle Road in Clifton after more than 40 years.
The Little Sisters of the Poor have been in Cincinnati since 1868 when a group arrived to establish the order's second home in the United States. The first was in New York.
The headline of the photo reads, "Little Sisters' 'Thank You.'
After that many years of service, it is the sisters who deserve thanks.
Learn more about the Little Sisters and the Archbishop Leibold Home HERE.
Welcome to The Catholic Telegraph's edition of Throwback Thursday. Throwback Thursday is a weekly online feature wherein users of social media share an old photo or anecdote about times gone by. We use Throwback Thursday to highlight the history of the Archdiocese of Cincinnati, and our publication.
Recent Throwback Thursdays
Seven men ordained priests in 2009
John Paul II survives second assassination attempt
Feast of the Ascension 
Students prep for first communion
Consider getting the print edition