Throwback Thursday: History of a famous clock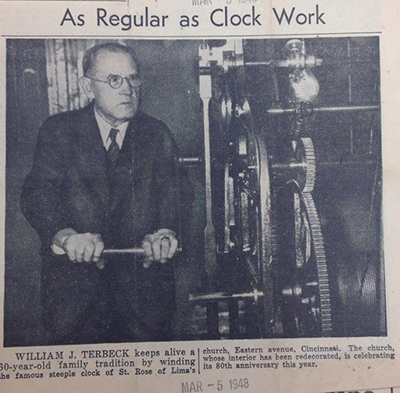 Staff Report
The present structure of St. Rose church on Eastern Avenue in Cincinnati has stood along the banks of the Ohio River for many years, its 190-foot-steeple rising high into the sky. On that steeple is a clock with an interesting history.
River boat captains have long shined their searchlights onto the tower clock to set their watches. A 1953 brief from the Cincinnati Enquirer notes that then-pastor Father E.J. Hamann was initially "mystified" at the searchlights being shined on his church, but eventually came to expect them.
The main image with this story comes from the March 5, 1948 edition of The Catholic Telegraph-Register. The clock was built by Cincinnati clockmaker Charles Cook in 1888, making it 127-years-old. Back then the men of the Terbeck family, sons of the man who helped fund the clock's construction, climbed the steeple each Wednesday night to wind the clock up.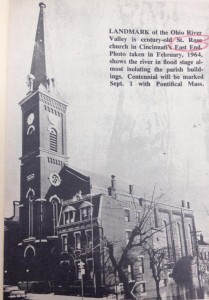 William Terbeck, who was 73 when this photo was taken, appears to have been the last Terbeck to carry on that family tradition. By early 1953 the clock mechanism had been replaced by an electric motor and bell ringer.
A brief from a March 6, 1953 edition of The Catholic Telegraph-Register notes that Father Hamann had been responsible for winding the clock in recent years.
The clock at St. Rose was taken down for three weeks prior to motorization. While the clock was gone for modernization from Jan. 29, 1953 to Feb. 20, 1953 Father Hamann told the Cincinnati Enquirer he received "hundreds of calls" asking what had happened.
It had only stopped ticking twice before in its history. First when a fire destroyed it in 1894 and again during the 1937 flood when it became inaccessible. St. Rose celebrated its 100th anniversary as a parish in 1968.
The clock face was replied in 1974 but one of the originals that adorned the tower is housed in a museum room of sorts at the parish. Owing to its visibility, a 1968 article in The Catholic Telegraph-Register notes that at one point the people of Dayton, Ky., located directly across the river from the church, paid for the south clock face.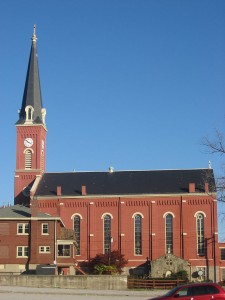 The old clock still ticks and chimes today as one of the landmark locations along the Ohio River.
For the full article from the 1948 edition, see the image below.
Welcome to The Catholic Telegraph's edition of Throwback Thursday. Throwback Thursday is a weekly online activity wherein users of social media share an old photo or anecdote about times gone by. We use Throwback Thursday to highlight the history of the Archdiocese of Cincinnati, and our publication.
Recent Throwback Thursdays
See the Top 10 stories of 2014
Archbishop Emeritus celebrates 40 years as bishop
A soldiers prayer on Christmas Day
Fenwick wins state
Thanksgiving Day Mass approved

Posted Jan. 8, 2015