Throwback Thursday: Just keep slugging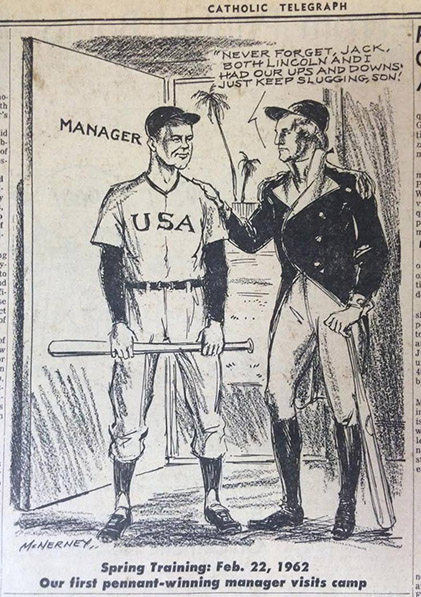 Despite snow today in some parts of the Archdiocese of Cincinnati, there are signs of spring on the horizon. Lent is in full swing en route to Easter, the weather is slowly beginning to warm, and baseball is back on the radar.
The Archdiocese of Cincinnati is home to the oldest professional baseball team in the world in the Cincinnati Reds, making baseball a major part of life in the region. Today's Throwback Thursday, from the Feb. 16, 1962 edition of The Catholic Telegraph, ostensibly references baseball but has a deeper meaning.
In 1962 the United States was facing many challenges. The Soviet Union was the big threat, the civil rights movement was underway and a recession was just coming to a close. Needless to say, America was hoping for a springtime of its own with the election of President John F. Kennedy a year earlier.
In the political cartoon attached, George Washington, the first president of the United States, is shown giving advice to the manager of "Team USA," who is likely supposed to be Kennedy. Washington tells Kennedy, "Never forget Jack, both Lincoln and I had our ups and downs; just keep slugging son!"
While Kennedy's presidency ended with his tragic assassination, the nation has endured and Catholics like him continue to be involved in the highest levels of government.
In today's America there are as many if not more challenges both at home and abroad that can get people down, but God's word contains the answers.
As it says in the Psalms (146:4-6), "Do not put your trust in princes, in human beings, who cannot save. Do not put your trust in princes, in human beings, who cannot save. Blessed are those whose help is the God of Jacob, whose hope is in the LORD their God."
Spring and Easter are coming, so even if the election season or foreign affairs has you down, put your faith in God, and "just keep slugging."
Welcome to The Catholic Telegraph's edition of Throwback Thursday. Throwback Thursday is a weekly online feature wherein users of social media share an old photo or anecdote about times gone by. We use Throwback Thursday to highlight the history of the Archdiocese of Cincinnati, and our publication.
Recent Throwback Thursdays
Farewell to the Catholic Chronicle
McDonald's Fish sandwiches started here
Consider getting the print edition
New computers, same mission
Remembering the Challenger