Throwback Thursday: The greatest story ever reported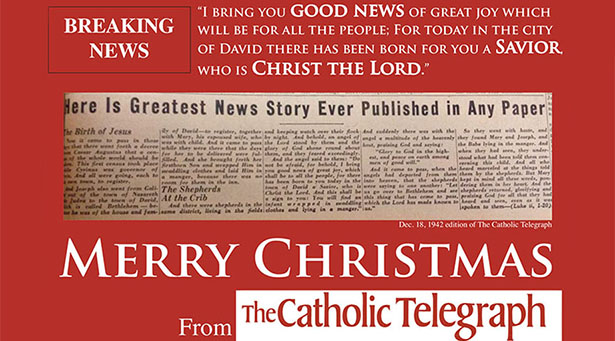 Staff Report
When Throwback Thursday falls on Christmas Day, the choice of topic can only be one thing — the birth of the Savior of the World, Jesus the Christ.
The Catholic Telegraph's first edition came out Oct. 22, 1831, a little more than 1800 years too late to be first to report the news that God had become man in a stable in Bethlehem. A while later in 1942, the paper made up for that.
On a Dec. 18, 1942 front page that was otherwise full of the usual The Catholic Telegraph-Register news of the day was the article embedded in the Christmas card above.
"Here Is Greatest News Story Ever Published in Any Paper" announced the headline. The article is a reprinting of the Gospel of Luke's infancy narrative. Luke was writing a gospel, and not a newspaper article, otherwise an editor would have told him he "buried the lead" by not mentioning the birth of Christ until the second paragraph.
The attached article from the 1942 edition is one the Throwback Thursday staff has often revisited while looking for additional content, because it is a reminder of The Catholic Telegraph's purpose. We exist to spread the Good News, that "today in the City of David there has been born for you a Savior who is Christ the Lord," and that his Church is alive and vibrant today.
The birth of Christ wasn't chronologically timely in 1942 any more than it is in 2014, but it is never "old news."
The original image of the 1942 clipping is included below.

Welcome to The Catholic Telegraph's edition of Throwback Thursday. Throwback Thursday is a weekly online activity wherein users of social media share an old photo or anecdote about times gone by. We use Throwback Thursday to highlight the history of the Archdiocese of Cincinnati, and our publication.
Recent Throwback Thursdays
Archbishop Emeritus celebrates 40 years as bishop
A soldiers prayer on Christmas Day
Fenwick wins state
Thanksgiving Day Mass approved
CCHD launched under different name
Posted Dec. 25, 2014