Tree-planting event honors memory of Sister Dorothy Stang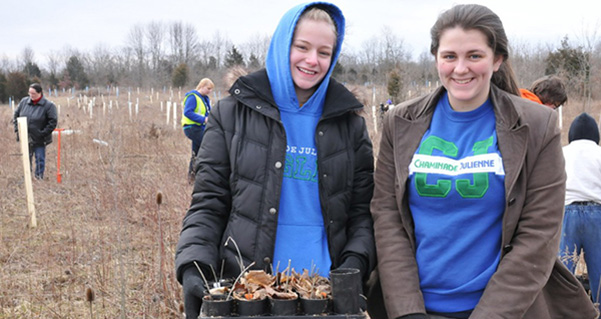 Press Release
Tiny seedlings and a prayer service have grown together to form an annual remembrance of Notre Dame de Namur Sister Dorothy Stang, who was killed in the Amazon Rainforest in Brazil while protecting the rights of indigenous farm families.
Stang was a Dayton, Ohio native but a naturalized Brazilian citizen.
For the third year Colleen Kammer, an Incarnation parishioner, organized a prayer service in Sister Dorothy's memory before volunteers began their work in the Five Rivers Metropark's "Seedling Saturday." This year's prayer service and planting program were at Carriage Hill Metropark in Huber Heights.
Kammer combines her faith and her volunteer efforts with the Metroparks' program to give Dayton area Catholics an annual opportunity to care for God's creation while continuing the legacy of Sister Dorothy.
On March 23, 25 people from various faith communities in Dayton gathered to pray and remember Sister Dorothy.
The group included Sister Dorothy's biological sister, Barbara Richardson, Barbara's daughter Angela Mason and Angela's sons, Cole and Riley and others including religious and students. At the end of the morning, six hundred seedlings had been planted.
"I just sent photos on and told the family Dorothy stays connected to all," Barbara Richardson said. "When you see a tree, see her and God's goodness to us all. Thank God for my dad who taught us to love the earth and protect our trees."
"By planting trees, I feel like we were living out the Catholic Social Teaching about Life and Dignity of the Human Person," student Julianne Evans, class of  '15, said. "Although what we were doing was a small thing, doing small things makes a difference because all small things add up to make a big difference.  Also, planting trees is caring for the earth and showing respect for what God has given and blessed us with.  And finally, we were living out our Call to Family, Community and Participation because we were working together which is part of being a community, of being one with different people and getting along."
The third annual Sister Dorothy Stang prayer and planting event is partnered with Five Rivers Metroparks' multi-year reforestation effort to replace native Ash trees lost to the invasive Emerald Ash Borer beetle. The Sister Dorothy Stang group is also part of the Million Tree Project, an effort to plant one million trees in Sister Dorothy's memory.
The Dorothy Stang event began in 2010.