Week 1 standings and Week 2 opponents for archdiocese Catholic HS football teams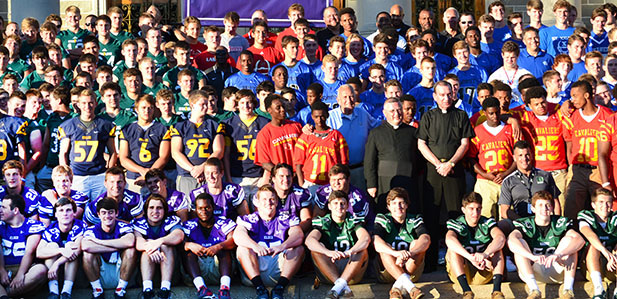 Staff Report
Years ago The Catholic Telegraph published high school football information in the print edition. Beginning in 2014 this site began posting the collected standings and weekly opponents of all of our Catholic high school football teams here each Friday.
Here are the standings through week one with week two's opponents listed. For more information on game dates, times and location, see the HS football Master Schedule.
Fun Fact: There's no match-ups between local Catholic schools this week, and Chaminade Julienne is the only school listed facing a Catholic opponent in week two at Columbus, Ohio's St. Francis DeSales.
Team                                  Week 1 Record                Week 2 opponent
GCL Co-Ed Standings
North
Alter                                        1-0 (0-0)                   Withrow (1-0)
Carroll                                     1-0 (0-0)                   Beavercreek (1-0)
Fenwick                                   1-0 (0-0)                   at Mt. Healthy (1-0)
Chaminade Julienne                  0-1 (0-0)                  at Cols. DeSales (0-1)
Central
Badin                                     1-0 (0-0)                  at Talawanda (0-1)
Roger Bacon                           1-0 (0-0)                   North College Hill (0-1)
McNicholas                             0-1 (0-0)                   Anderson (0-1)
Purcell Marian                         0-1 (0-0)                   Norwood (1-0)
GCL South
LaSalle                                   1-0 (0-0)                   at East Central (IN) (2-0)
Moeller                                   1-0 (0-0)                   Wayne (1-0)
Elder                                      1-0 (0-0)                   at Lakota West (1-0)
St. Xavier                               1-0 (0-0)                   at Colerain (1-0)
Other Catholic Schools
Summit  Country Day               1-0 (0-0 MVC)                  Cincinnati College Prep (1-0)
Catholic Central                       1-0 (0-0 OHC)                  at Graham Local (0-1)
Lehman Catholic                      0-1 (0-0 NCC)                  Minster (1-0)
Posted Sept. 4, 2015