Advice from a Vocations Director who's Outstanding in his Field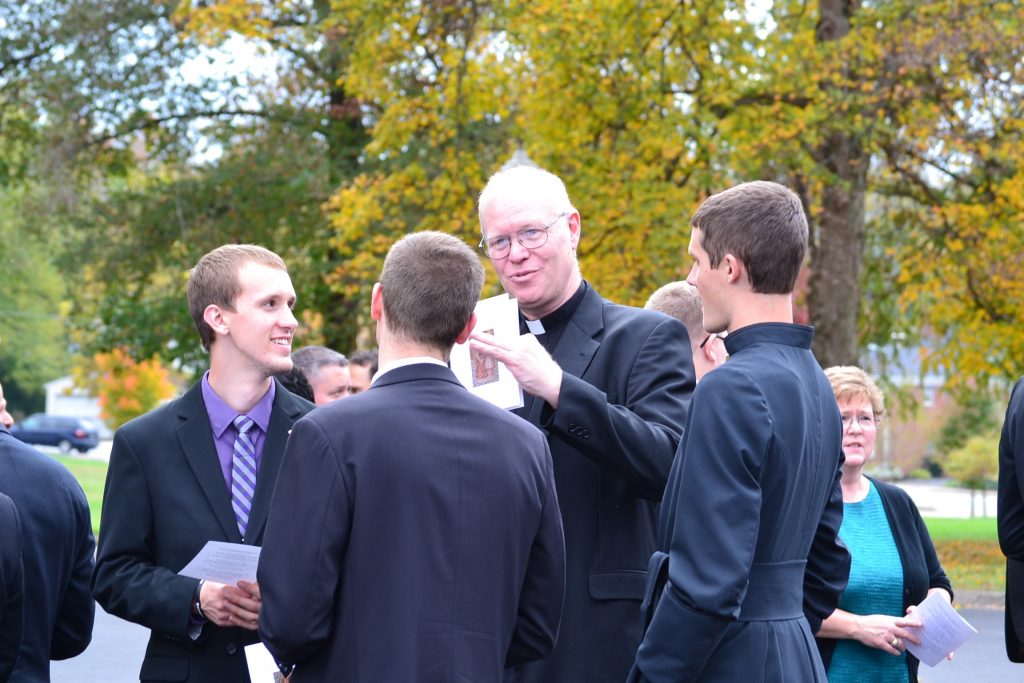 By Steve Trosley
Father Dan Schmitmeyer smiles as he looks down on the people around him.
     He can't help looking down, as he is easily 6'6" tall. The smile tips off the hearty sense of humor that comes from his enthusiasm for his job — vocations director for the sprawling archdiocese of Cincinnati — and his rural Ohio (county) upbringing. 
      "When the archbishop told me what my assignment would be and that I would be living at the seminary, I had to ask what sin I had committed," he said.
     Does he think of himself as a recruiter? 
      "My job is not to get you ordained. My job is to help you get to heaven," he said. 
     "Going to the seminary is not about being ordained. The archbishop thinks every man should go to the seminary just to find out what God wants him to do."
     As the new school year starts, Father Schmitmeyer and Associate Vocations Director Wayne Topp are looking forward to working with young men and women at high schools in the archdiocese.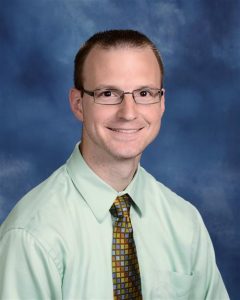 Topp started in the seminary the same year as Father Schmitmeyer, but is among the many who never see ordination, and is now married and the father of six, with another on the way. Father Schmitmeyer said that while he himself resisted Christ's call for many years, he's had one set of parents tell him recently that their five-year-old is already preaching.
     Father Schmitmeyer said he finds the best results come from working in the parishes. "I travel to a different parish every week," he said. "I've found that when we keep the servers through their senior year, they have more exposure to the pastor and then the pastor really gets to know them." 
     Father Schmitmeyer has advice for anyone wondering about being called to a priestly or religious vocation:  "First, spend time with Jesus in adoration. Be quiet and let Him talk to you," he said. 
     "Go to Mass and pray the rosary. Talk to your pastor. And don't be afraid to call me."
     Seminary life includes plenty of time for discernment, he said. Of the seminarians who enter a major seminary, Father Schmitmeyer said, 75 percent will see ordination day. Of those who first go to college before coming to the seminary, around 50 percent receive Holy Orders.
     The number of new seminarians entering Mount St. Mary's Seminary of the West this fall is projected at 29 men, with 25 living on campus.
    Eight are from Cincinnati; seven from Toledo; six from Charlotte, North Carolina; two from Kansas City/St. Joseph, Missouri; one from Louisville; one from Tulsa, Oklahoma; and four, who will live off-campus, are from the Franciscan Friars Minor.
     Altogether, it is projected the seminary will educate close to 100 seminarians this year. Of those, 15 are projected to be ordained in May, 2019.
     For more information, videos about vocations, discernment and prayer resources, and notices of vocation events, visit:  Cincinnativocations.org. 
     To contact Father Dan Schmitmeyer, call (513) 421-3131 or (800) 686-2724, extension 2890 for either number, or email: [email protected]. 
     To learn more about The Athenaeum of Ohio/Mount St. Mary's Seminary of the West, visit Athenaeum.edu.