American Heritage Girls aim to build women of integrity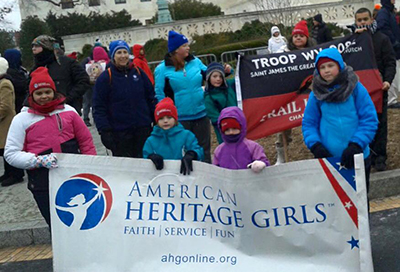 Sponsored Content
American Heritage Girls, Inc. (AHG) is based in the Springdale area of Cincinnati (175 Tri-County Pkwy, Suite 100, Cincinnati, Ohio 45246). AHG is the premier national character development organization for young women that embraces Christian values and encourages family involvement.
AHG was founded by a group of parents wanting a Christ-centered scout-type program for their daughters. AHG was founded with the love of God…through the love of families…for the love of children and is celebrating its 20th anniversary this year.
American Heritage Girls fulfills its mission of building women of integrity through service to God, family, community, and country through a balanced and holistic program. There are six program emphases that are essential to fulfilling AHG's mission:
• Life Skill Enhancement: Girls learn life skills as they earn multi-level Badges
• Girl Leadership
• Developing Team Work and Building Confidence
• Character Development
• Social Development
• Spiritual Development
American Heritage Girls is a pro-God, pro-family, pro-life organization. AHG supports the sanctity of life both on a national and local basis. AHG Troops participate annually in the March for Life in Washington, D.C., as well as support Wreaths Across America. Girls can earn the AHG Respect Life Patch as well as the AHG NCC (National Catholic Committee) Jubilee Year of Mercy Activity Patch in their Troops.
Linda King, volunteer Area Coordinator for AHG Troops in Cincinnati, has taken an active role in leading and supporting events for Troops that focus on respecting life. King has been involved with AHG for over 15 years and currently has three grand-daughters in the program. King and the other members of the AHG Cincinnati Area Ministry Team have spear-headed cookie collections for the Cookies for Kairos Ministry at the Lebanon Correctional Institution for many years.
"Cincinnati AHG Troops bake hundreds of dozens of cookies, pray over each tray, and create placemats that are used at meal time during the Kairos retreats," King said. "While the girls do not visit the prison, they know that their service in this cookie ministry is a 'hands-on extension of Christ's love.'"
King and her team are currently working on a local Respect Life initiative for December 2016. AHG Troops will participate in Wreaths Across America. AHG Troops have set a goal to collect 1,500 wreaths to place on veteran's graves in December at a local cemetery. It is important for AHG Girls to give back to the men and women who gave their lives for this country.
To learn more about the American Heritage Girls, click HERE.