April CT has interview with world-renowned chef, and more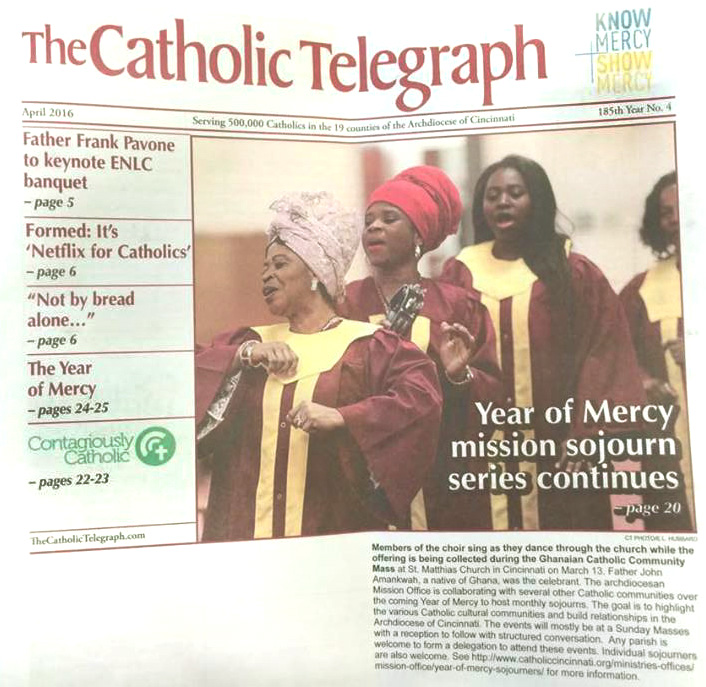 The April 2016 print edition of The Catholic Telegraph begins hitting mailboxes this week and among the issue's high points is an exclusive interview with world-renowned chef Lidia Bastianich.
Ursuline Sister Eileen Connelly secured the interview with Bastianich to talk about the Emmy-award-winning TV chefs experience cooking for two different pontiffs on their visits to America. Bastianich also shared a recipe for Chocolate-hazelnut cake and torta gianduia.
The issue also includes a letter from Archbishop of Cincinnati Dennis M. Schnurr where the archbishop asks the faithful to support the Catholic Relief Services collection on April 9 and 10 in this archdiocese. His letter tells the story of refugee brothers separated in chaos, but brought together again nearly a decade later thanks to Catholic relief efforts.
As the Year of Mercy continues, the cover photo and associated coverage on page 20, report on a Year of Mercy sojourn hosted by Ghanaians Catholics. John Stegeman has a Year of Mercy story on the three Missionaries of Mercy with local ties traveling to Rome to be commissioned by Pope Francis.
The archdiocese is always looking for new ways to teach the faith to adults and students alike, and some of these efforts are highlighted in this issue. A story by Patricia McGeever tells of Theology of the Body curriculum being introduced at archdiocesan schools, and a Walt Schaffer story reports on a program called FORMED that helps parish staff and others communicate the faith in a digital age.
There's more news and commentaries throughout the issue, some of which will only be available via print subscription.
Many, but not all, of the stories from the April 2016 print edition will appear online over the course of the next month. To make sure you don't miss a single story, subscribe to the print edition HERE at no personal cost.