Badin grad Dr. Stephanie Streit '02 on the front lines of trauma care in Las Vegas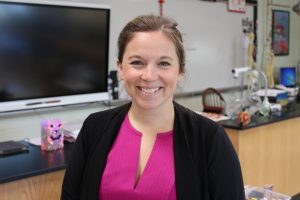 It was 11 o'clock at night in Las Vegas and Dr. Stephanie Streit was ready to go to bed.
She was checking her twitter feed, and noticed a couple of tweets about shootings on the Strip. The U.S. Air Force major told her husband she thought she should probably head for the hospital.
That was the start of a long night and day for Streit, a 2002 Badin High School graduate and trauma surgeon at the only Level I trauma center in Las Vegas, University Medical Center.
"It was controlled chaos," Streit said during a visit to Badin High on Tuesday. "I walked in and there were people everywhere. I just kept going up to patients and saying, 'Who are you and where are your holes?'"
Streit had immediately volunteered to take charge of the hospital's overflow area in what on normal days is the Post-Anesthesia Care Unit (PACU). Here, patients had been sent who had been "triaged" and, though wounded, determined not to be in a life-threatening situation.
"I probably did my last operation at 6:30 in the morning," Streit said. "I walked out of the operating room and there was the governor of Nevada. And then a few minutes later we walked outside to a beautiful Nevada morning, and there were a thousand cameras waiting for us.
"All the cameras – that's not something anybody prepares you for."
Gunman Stephen Paddock, firing from the 32nd floor of the Mandalay Bay Resort and Casino, had killed 58 people and wounded more than 500 before taking his own life. Seven Las Vegas hospitals handled the shootings, with more than 100 victims being brought to the University Medical Center.
While she may not have been ready for the cameras, Streit noted that the Las Vegas carnage was in fact something she had spent years training for.
"Every trauma surgeon wonders what they would do in a situation like this," Streit said. "Until a mass casualty event happens, nobody really knows how they will respond. You always wonder, am I good enough?
"After this night, I sort of stopped, exhaled, and said yes, I can do this," she added. "If anything positive came out of this misery for me as an individual, it's the knowledge that I can do the job, that I have what it takes, that I can be there to help try to make things better."
And that is exactly where Streit's Air Force career could potentially take her – into a military deployment situation as a trauma surgeon.
The daughter of Don and Monica Streit of Hamilton, Streit was a senior at Badin High on Sept. 11, 2001, and determined on that day that she would join the military.
"9/11 had a really big impact on me," she nodded. "I felt really helpless, like a lot of people did that day."