CRS Preparing to Respond to Hurricane Maria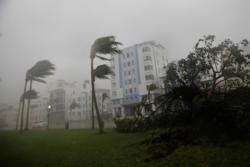 BALTIMORE, MD, September 18, 2017 – Catholic Relief Services (CRS) is preparing to respond to Hurricane Maria, a Category 5 storm headed for many of the same Caribbean islands already devastated by Hurricane Irma.
Working with Caritas Antilles, CRS staff are on the ground in Tortola, a British Virgin Island which is in the storm's projected path, which now has maximum sustained winds of 160 mph.
"People are hunkering down," said Amanda Schweitzer, CRS' emergency coordinator on Tortola. "After what they saw from Irma they are scared."
CRS teams across the Caribbean – including the Dominican Republic, Haiti and the Lesser Antilles – have been working with partners on the ground to identify and respond to the biggest needs in the aftermath of Irma. In Tortola, as on many other islands, the scars from that storm are fresh and widespread.
With Hurricane Maria expected to gather strength before it makes landfall, Schweitzer says preparations are under way. "We are just getting prepared, trying to secure buildings that were damaged by Irma and getting supplies. Families are opening homes to neighbors and others whose homes were destroyed."
Many are working to replace missing roofs with tarpaulins, but other houses are in ruins. The landscape is filled with debris and punctuated by cars that have been flipped upside down, destroyed boats, trees stripped of their leaves, Schweitzer reports.
"Right now, everyone is preparing again for Maria, but things here are already bad," Schweitzer said. "I've never seen anything like this in terms of the destruction. It's complete devastation."
To help victims of these storms, click here
---
Catholic Relief Services is the official international humanitarian agency of the Catholic community in the United States. The agency alleviates suffering and provides assistance to people in need in more than 100 countries, without regard to race, religion or nationality. CRS' relief and development work is accomplished through programs of emergency response, HIV, health, agriculture, education, microfinance and peacebuilding. For more information, please visit crs.org or crsespanol.org and follow CRS on social media: Facebook, @CatholicRelief, @CRSnews, YouTube, Instagram and Pinterest.