CSW Roundup: Music, arts, medicine and sports
As Catholic Schools Week 2016 winds down, here's a look at some of the news submitted to the CT by area Catholic schools around the Archdiocese of Cincinnati.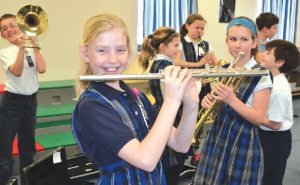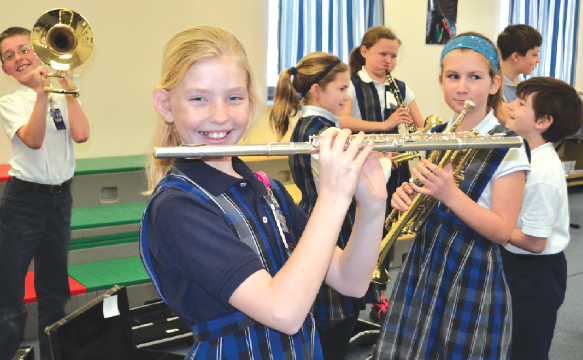 St. Ignatius Music Program growing, in need of instruments
Ta-ta-tam-tam! Music teacher Tasha Grismayer taps a music stand three times.  There is scarcely a second of silence, and then a sixth grade string ensemble begins the end of quarter concert.  The sixth graders have been learning string instruments as part of their regular music curriculum.
St. Ignatius Loyola school collected over 60 band instruments,  30 violins and violas,  4 cellos, and one bass for its music program.  Many of the band instruments were collected after an article appeared in The Catholic Telegraph asking readers to dust off old instruments in their attic and donate them to St. Ignatius.
Now, students at St. Ignatius will learn a band instrument in the fourth and fifth grades and a string instrument in the sixth grade.  Since the band class started eighteen months ago, the extracurricular band program has doubled in size to over 100 participants.  The string class just started at the beginning of the 2015-2016 school year, and there is already a plan for an afterschool string ensemble in the works.  The school is now seeking donations for more advanced instruments like bassoons, oboes, and french horns.
"Some kids who would have never tried to play an instrument discover a hidden talent; some may become musicians, others will leave grade school with an appreciation for music that they never would have had if they had not played an instrument," said Grismayer.  "Most importantly, the students are really enjoying it."
Principal Tim Reilly also noted that the best example of the joyful sounds he has heard since students began learning instruments in class was hearing a student exclaim, "I didn't know I was a trumpet player!" "We are grateful to those who have donated to the program," said Reilly.  "It is exciting to see how the students have embraced this opportunity."
To donate to the St. Ignatius instrument program, contact Lynn Esmail at [email protected] or 513 389 3242.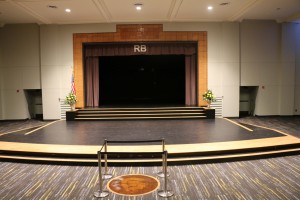 Roger Bacon opens Carol Dauwe Fine Arts Center
Roger Bacon High School is proud to announce the grand opening of the Carol Dauwe Fine Arts Center. Under construction since June 2015, the Fine Arts Center has permanent seating for 317 persons with an additional 200 floor seats. The center features a new thrust stage, state-of-the-art sound and video systems and expanded capabilities which will be used for fine arts and daily academic classes. It is a true multiuse facility located in the heart of Roger Bacon.
The new Fine Arts Center contains many features showcasing Roger Bacon's rich history – the original Our Lady of the Angels (OLA) terrazzo emblem from the lobby of OLA, a San Damiano cross from the Basilica of St. Francis in Assisi, Italy, restored skylights, preservation of the original center court, and a 62-foot mural. The mural contains 400 photos from yearbooks dating back to 1929 portraying students, faculty and key events in the history of both schools. "The Fine Arts Center is a perfect blend of tradition in a modern facility" according to Principal Steve Schad. "Not only will it provide state-of-the art performance opportunities for our current and future students, it honors our illustrious history with a variety of unique features."
This space has gone by many names: auditorium, old gym, original gym. But now, it is the permanent home for the arts at Roger Bacon High School. The first Drama Guild performance will be 'The Wiz' on April 21, 2016. According to the Fine Arts Department chair, Joe Montgomery, "It is offering us experiences and opportunities we have never had before; not just for our Art students, but our entire Bacon family. How nice it will be to perform in a modern theatre instead of a converted gymnasium. We are expanding opportunities in Fine Arts. It is very gratifying to see this emphasis on Fine Arts – especially since this is not the trend at many local schools."
Roger Bacon is hosting an Open House on February 6th from 5:00 – 7:00 pm for alumni, donors, parents and friends. Following the Open House, the Sound Body Jazz Orchestra will perform. The Sound Body Jazz Orchestra is comprised of alumni and was formed in 1992. The band's name is adapted from the inscription above the performance stage – "Mens Sana en Corpore Sano" (Sound Mind in a Sound Body).
Roger Bacon is looking forward to the opportunities the Carol Dauwe Fine Arts Center will create for the community, our alumni, current and future Spartans.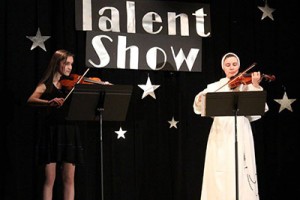 St. Gertrude School (Madeira) hosts Catholic Schools Week talent show
Congratulations to all the students who put on a fantastic Talent Show for Catholic Schools Week.
The show consisted of dance, vocals, comedy and musical acts. Pictured are SGS 8th grader Olivia DeStefano and Junior High teacher Sister Veronica Marie, O.P.
Four Ursuline students accepted into TAP MD program
Ursuline congratulates the four students who have recently been accepted into the TAP MD program: Kiran Desai '17 of West Chester, Sophia Jacobs '17 of Hyde Park, Katie MacVittie '17 of Montgomery, and Kate Thompson '17 of Maineville.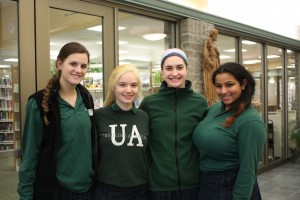 TAP MD is sponsored by the Greater Cincinnati Health Council and is a career exploring program for high school students selected by school teachers and counselors. Students must be strong academically (29 ACT and/or 1300 SAT), motivated, mature, dependable and have a positive attitude. The program focuses on students who have not yet decided upon a career choice.
The objectives of the Council's TAP MD program are to find "untapped" and talented high school students, encourage their entry into a career in medicine, and increase the number of future Tristate urban and rural physicians.
"TAP MD offers students a wonderful opportunity to learn about potential careers," Ursuline President, Ms. Sharon Redmond, said. "The experiences these students have are truly beneficial as they begin to think about college and careers. We're very proud that four Ursuline students will be participating in the upcoming class and we're excited to see what they do in the future."
The goal of TAP MD is that over 50 percent of participants pursue a career in medicine. In the third year of the program, 2013, 89% of the participants indicated that they planned to pursue medical school.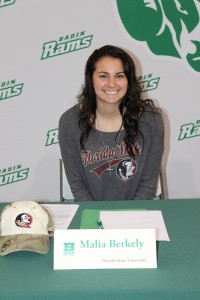 Badin's Berkely named Gatorade Player of the Year
Badin High School senior Malia Berkely couldn't stop smiling on Thursday morning. It's been a great week.
One day after signing to play Division I college women's soccer at Florida State University, Berkely learned that she had been named the Gatorade Ohio Girls Soccer Player of the Year for 2015-16. It's the second year in a row that Berkely has earned the Gatorade honor.
"It's so surprising!" Berkely said. "I'm super excited about it. It's crazy to win it once, but to win it twice is just amazing."
The Gatorade award recognizes not only athletic excellence, but also high standards of academic achievement and exemplary character demonstrated on and off the field. She is now eligible to earn the Gatorade National Girls Soccer Player of the Year award, which will be announced in May.
In four years at Badin, Berkely scored 66 goals and added 33 assists for teams that went 62-12-10 and won the 2013 and 2014 Ohio Division III state titles. She is also a member of National Honor Society at Badin and carries a 4.12 weighted grade point average.
Athletic Signings
Badin High School announced the following signings:
Malia Berkely, soccer, Florida State University
Cody Boxrucker, football, Valparaiso University
Gabby Geigle, soccer, University of Akron
Ursuline High School announced the following signings:
Holyn Alf, soccer, University of Cincinnati
Amanda Reed, soccer, Kent State University
To submit news to The Catholic Telegraph, send press releases to [email protected].