Dedicated 'retired' teacher continues in Montessori education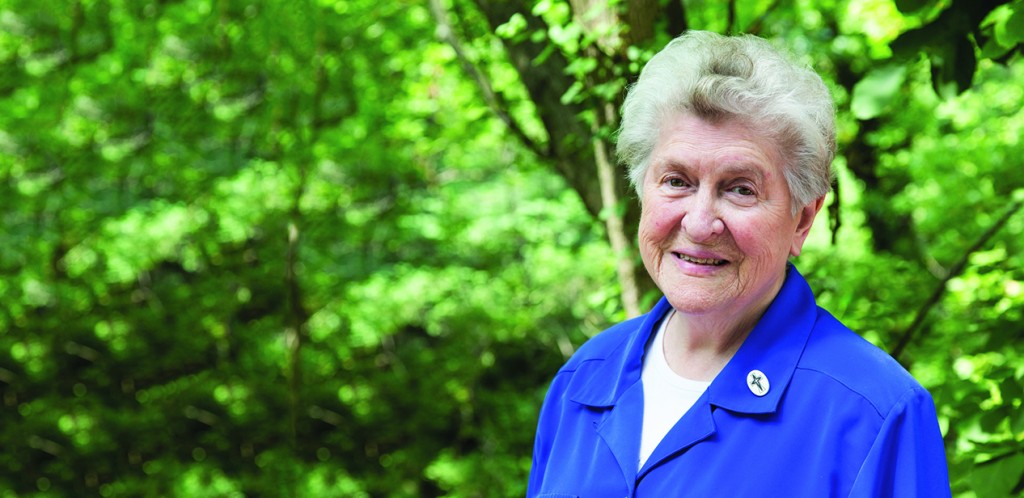 Sister of Mercy Mary Aloyse Gerhardstein is certainly not slowing down at 87 years old – just changing course.
Sister Aloyse, a lifelong Cincinnatian, has dedicated her life to educating and inspiring children locally and abroad. She helped Mercy Montessori establish the upper elementary program and Cincinnati's first Montessori junior high; opened an interracial Montessori school in South Africa during the Apartheid era; trained teachers in Cincinnati and Africa; and published a musical about Maria Montessori.
One of five children, Sister Aloyse was raised in Cheviot, attending St. Martin of Tours School. She knew in the seventh grade that she wanted to become a nun after her teacher read the students a book about the lives of the saints and she was inspired by their faith and courage. She entered her religious community in 1947, immediately after graduating from Mother of Mercy High School. Sister Aloyse went on to earn a bachelor's degree in education from the Athenaeum of Ohio; a master's in education from Xavier University; and a bachelor's in music from the College Conservatory of Music.
Sister Aloyse's educational ministry began at St. Teresa of Avila School, followed by 16 years of teaching music, English, history and general science at Mother of Mercy. Then, the Sisters of Mercy asked Sister Aloyse to work at Mercy Center in Walnut Hills and take care of organizations that used the facility, one of which was Mercy Montessori, a Catholic Montessori School. During her tenure with Mercy Center, Mercy Montessori's principal needed someone to teach the older students and Sister Aloyse's ministerial path took a turn.
After completing Montessori education in Bergamo, Italy, Sister Aloyse happily accepted the invitation to teach grades nine through 12, which she did for 11 years. With a grant from the Martha Holden Jennings Foundation, she wrote a musical with the students: "Ohioans All Together Now." A play composed by Sister Aloyse, "You Can Be What You Want to Be," illustrates the life of Maria Montessori and has been presented throughout the country.
Sister Aloyse also used her Montessori training to open South Africa's first Montessori school, answering a request from Johannesburg for a qualified Montessori teacher. Sister Aloyse offered to help for six months, but ended up staying three years, living with other Sisters of Mercy until a South African teacher completed education to lead the school. It was a daring adventure to start a primary school with 28 children who were white, Indian and black under the Apartheid regime, which banned multiracial schools. She also taught in Tsogo High School, run by the Irish Sisters of Mercy in the Township of Bophutatswana. Sister Mary Jacinta Shay, founder of Mercy Montessori, joined Sister Aloyse in Africa for many summers, presenting training for Montessori teachers there.
This school year, Sister Aloyse has now  transitioned out of the classroom full time.  Even with this change in her role, she has continued to stay very involved at Mercy, planning Masses, supporting the junior high history program, and helping five year olds hone their skills by listening to them read, and updating the archives.
"Sister is inspiring and creative in her teaching. She helps bring out skills in students that they did not realize they had. She cultivates learning in the truest sense," said Rachel Heitkamp, a former student and current Mercy parent.
School principal, Patty Normile, reflected that Sister Aloyse is a "humble, gracious educator. She provides simple touches that make our Mercy community what it is"
To celebrate "Sister A," as she is known at Mercy Montessori, the community celebrated her on Mercy Day, marked each year on Sept. 24 to commemorate the day when Catherine McAuley founded the Sisters of Mercy in Dublin, Ireland, in 1827. In addition to a Mass and reception held in her honor, a "Tree of Life and Transformation" was planted in the school's parlor. The work of art holds messages of love, memories, and well wishes for Sister Aloyse, all encased in colorful capsules. The tree has been on display throughout the school year.
The school's Mercy Day event was also tailored to celebrate Sister Aloyse and her spirit of giving. In preparation for the festivities, students from each division collected non-perishable items to create unique 'Can-Struction' displays that represented Sister Aloyse in some way. The primary students crafted a Mercy Logo; lower elementary designed a fish symbol; upper elementary recreated the cover of Sister Aloyse's published musical; and the junior high fashioned a tribute to National History Day.  All of the food items were then donated to Mercy Neighborhood Ministries, an organization that has also benefited from the time and talent of Sister Aloyse.
Sister Aloyse said she "continues to feel energized" when she spends time at the school. "The kids keep me young, and I enjoy knowing that I'm still helping them become good, Catholic members of society There is such a beautiful attitude among the staff and principal. Everyone is so positive and eager to help."
As she looks back on her many years in religious life, Sister Aloyse has the following words of wisdom for young people discerning their own vocations: "First of all, I would say pray. The Lord will provide if you pray and follow the dictates of your heart. Pray, and then be patient. The Lord will give you the grace to know what He wants you to do and the courage to do it."
Eileen Connelly, OSU, also contributed to this article.
This feature story first appeared in the July 2016 print edition of The Catholic Telegraph.