Documentary about New Orleans Catholic Sisters' efforts to rebuild after Katrina wins award for Best Religious TV Program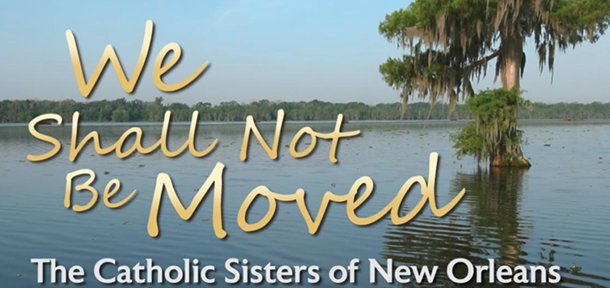 Press Release
We Shall Not Be Moved: The Catholic Sisters of New Orleans has won a 2013 Gabriel Award for Best Religious Television, National Release, announced the Catholic Academy for Communication Arts Professionals on May 3. The 57-minute film documents how six congregations of New Orleans' Roman Catholic sisters returned to minister and rebuild after Hurricane Katrina. The film was produced by NewGroup Media of South Bend, Ind. and the co-executive producers are Loretta Dees and Sr. Sally Duffy, SC with from SC Ministry Foundation in Cincinnati, Ohio.
The Gabriel Awards are presented annually to film, television and radio programs and a distinguished individual whose body of work nourishes and uplifts the human spirit. The competition is to all radio and television stations and producers in the United States and Canada.  The 2013 awards will be presented June 20 at the 2013 Catholic Media Conference in Denver, Colo.
Past Gabriel Award television winners include: ER, the Today Show and ABC News, Dateline, The News Hour with Jim Lehrer, Odyssey Networks (formerly Faith and Values Media) and Hallmark Channel, among others. 
"We are deeply grateful to the Catholic Academy and for the stories of these women religious," said Co-Executive Producer Sr. Sally Duffy, a Sister of Charity of Cincinnati and President of SC Ministry Foundation in Cincinnati, Ohio which coordinated the film. "We Shall Not Be Moved can only lead one to deepen their faith in God and their willingness to serve all our brothers and sisters."
We Shall Not Be Moved was presented by the Interfaith Broadcasting Commission as the first program in ABC's "Vision and Values" series for the fall 2012 broadcast season. ABC stations scheduled 138 broadcasts in 41 states. The program uses archival photos and materials, television footage of Katrina and the flood, extensive and poignant with sisters from each of the congregations. Music is performed by New Orleans Gospel choirs.
"U.S. women religious have always been faithful, creative and committed to their ministries throughout our country's history," said the film's writer and producer Sr. Judy Zielinski, a Sister of St. Francis of Sylvania, Ohio. "The Sisters of New Orleans exhibited those same traits following Hurricane Katrina, and I feel privileged to have met them and told their stories in this film."
The congregations featured and the year they came to New Orleans are:
• Ursuline Sisters – 1727
• Sisters of Our Lady of Mount Carmel – 1835
• Sisters of the Holy Family of New Orleans – 1842
• Marianites of Holy Cross – 1849
• Congregation of St. Joseph – 1854
• Society of St. Teresa of Jesus (Teresian Sisters)  – 1915
The film relates how these six congregations of sisters, lost more than convents, chapel, cars and motherhouses. They also lost ministries – high schools, child development centers and community centers and a nursing home for the elderly at which 17 patients died while awaiting rescue. The film shows how each congregation faced the seemingly insurmountable challenge of gaining the necessary funds and overcoming other obstacles of repairing and rebuilding.  Some of these funds came from the most unexpected sources, one being the King of Saudi Arabia.
"The events of Hurricane Katrina and rebuilding brought out what is best in us as religious women. And I don't ever want to lose that," Sr. Beth Fitzpatrick, O. Carm. says in the documentary. Sr. Beth was Major Superior of the Sisters of Our Lady of Mount Carmel at the time of Katrina.
SC Ministry Foundation in Cincinnati organized the fund-raising effort to make the documentary.  The funders represent the Assembly of Catholic Foundations and other Catholic foundations and congregations of women religious.
For more information about the film, including a preview, or to order the DVD, visit www.weshallnotbemovedmovie.com or call 800-354-3504 to order the DVD.