Five Lies and a Question about Vocations
Your vocation is the single most important aspect of your life. Living out your vocation will lead to happiness. Failing to live out your vocation will lead to dismay. All of that is true, but doesn't it also sound a little terrifying?
Whether you are trying to discern your vocation, or already know what it is and feel (sometimes) like a failure, your vocation shouldn't terrify you. This month we're going to shine a light on how we think about vocation and debunk five lies we tell ourselves.
LIE 1: VOCATION IS AN OBLIGATION
Taking out the trash is an obligation. The work meeting that makes you late for dinner with your family is an obligation. Vocation is a privilege.
You are called to something. You were made for a purpose. Your vocation is a manifestation of that purpose. And that's nothing to be terrified of – that's something to celebrate.
LIE 2: YOU CAN PICK THE WRONG VOCATION
God is not a game show host asking which door you think will lead to happiness: Choose wisely and your life of joy awaits! Choose poorly and a bucket of slime falls on your head.
Discernment is choosing between two good things. When you're choosing between something good and something evil, you don't need discernment, although you might need courage, grace or fortitude. Discernment is about asking the right question, working whole-heartedly to figure it out, praying about it and moving forward with God.
LIE 3: YOU HAVE TO FIGURE OUT YOUR VOCATION QUICKLY
If you're a devout Catholic young adult, being single can be terrifying. It's like, "Hey lady! What's wrong with you? Why aren't you a nun or a mom yet?" or "Hey fella! What's your deal? How come you aren't a priest or a dad yet?"
God's time is not our time. God never rushes. You don't have to rush. Take your time. God is working.
LIE 4: YOUR VOCATION IS GOING TO MEAN SACRIFICE
This statement is only true insofar as ALL of life requires sacrifice. This is the way life works: You want something. You want something else. You can't have both. You have to make choices. Life requires sacrifice. But living out your vocation delivers joy. Dorothy Day said, "You will know your vocation by the joy that it brings you." Sometimes life is scary or miserable or hurtful. But vocations aren't.
LIE 5: AMBITION AND VOCATION ARE OPPOSITES
St. Terese of Lisieux said, "God would never inspire me with desires which cannot be realized; so in spite of my littleness, I can hope to be a saint."
Living any vocation means service, but in service there is greatness. The desire to be a mother, father, priest, religious sister, single person or deacon is not in conflict with the desire to be great. So go ahead and desire to do something great with your life and know that your vocation will lead you to greatness, not away from it.
Okay, so what is the one question that really matters when it comes to vocation?
"God, what do you want me to do?" That's it. That's the question. The very nature of vocation rests on the belief that God made you for a purpose and has a plan for your life. In each moment we can ask this one simple question and be spurred towards sainthood. No matter the circumstances, the timing, your state in life… ask this question with sincerity and respond to it with prayer and trust that God is with you.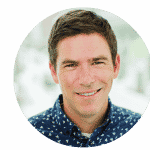 Dominick Albano is the director of digital engagement for The Catholic Telegraph, as well as an author and national speaker. He and his wife have been married for 14 years and have four sons.
This article appeared in the November edition of The Catholic Telegraph Magazine. For your complimentary subscription, click here.