La Salle students take stand for life at annual D.C. march
January 30, 2012
La Salle High School students took a stand for life when they participated in the annual March for Life Jan. 23 in Washington, D.C.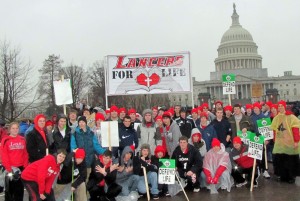 They traveled to the nation's capital to participate in a pro-life rally on the mall and march to the Supreme Court building.
This is the 20th consecutive year La Salle's Teen Life Coalition and other interested students have joined the March for Life. Fr. Shawn Landenwitch, La Salle's chaplain and a religion teacher, accompanied the students.
The experience was memorable.
"Our students are also overwhelmed each year by the huge crowds that come out to defend the sacredness of human life," said Fr. Landenwitch. "The March for Life is a powerful experience of the pro-life movement in our nation."
Students who participated attend area parishes:
Assumption – Seniors Sam Brickweg and Cody Shields
St. Ann – Seniors Matt Amend, John McMahon and Alex Merk
St. Bernard – Seniors Gus Brock and Tyler Lake; Sophomores Kelly Palmer and Justin Siniawski, and Freshman William Frey
St. Ignatius Loyola – Seniors Tyler Berrens, Sam Fronk, Mike Hartinger, Brandon Heflin, Jacob Hillman, Jeff Nader and Connor Schmidt; Juniors Patrick Bellman and Mitch Dorsey, and Freshmen Michael Branscum and Justin Mays
St. James the Greater – Seniors Bart Despotes, Kyle Greene, Martin Roll and Nate Valentino, and Junior Ben Bradley
St. John the Baptist-Dry Ridge – Seniors Jacob Dorr, Chris Greene, Daniel Isfort and Zack Zumvorde, and Sophomore Adam Moeller
St. John the Baptist-Harrison – Senior Thomas Cowie
St. Margaret Mary – Senior Tyler Zoz
St. Martin of Tours – Seniors Justin DeNoma, Robert Herbert and Alex Lohbeck, and Freshman Devon Scheuermann
St. Maximillian Kolbe – Sophomore Anthony Wieck
St. Therese-Little Flower – Seniors L.J. Johnson and David Ruhe
St. Augustine (Covington) – Senior Jacob Luning
Also attending were Joe Anneken of La Salle, Sarah Specker of Seton High School, and chaperones Becky Specker, Courtney Brown, Tom Fronk and Rick Merk.
Each January, crowds gather in Washington, D.C., to recognize the anniversary of Roe v. Wade, the 1973 Supreme Court decision that made abortion legal in the U.S. Pro-life organizations from across the country participate in events marking the anniversary.
La Salle students attended mass at the Basilica of the National Shrine of the Immaculate Conception Jan. 22, and with nearly 20,000 teens at the Archdiocese of Washington's annual March for Life Youth Rally and Mass at the Verizon Center.
La Salle is located at 3091 North Bend Road in Green Township and has served students from Greater Cincinnati since 1960. Its website is www.cincinnatilasalle.net.
La Salle High School is a college preparatory Catholic institution guided by Jesus Christ and rooted in the teachings of St. John Baptist de La Salle. In partnership with parents, La Salle educates young men of all backgrounds, encouraging each student to reach his maximum potential: mind, body, and spirit. La Salle strives to develop every student into a servant leader, equipped with the experience and confidence to lead ethically in a 21st century environment.