Literacy Network and Learning Through Art Cincinnati Host Family Literacy Night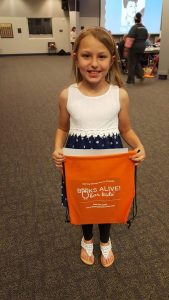 Through a partnership with Learning Through Art Cincinnati and Elder High School's Tech-Reach program, the Literacy Network co-hosted their second Family Literacy Night on Thursday, May 4, 2017 at Elder's Schaeper Center.
Children and their parents were invited to gather at Elder High School for an evening of reading with their families and arts and crafts. The theme of the evening was centered around jazz. Each child received the book "The Sound That Makes Jazz" by Carole Boston Weatherford and a backpack provided by Learning Through Art Cincinnati with other craft supplies. The craft of the night included children making pictures of jazz singers Ella Fitzgerald and Louis Armstrong. Kathy Wade, CEO of Learning Through Art, also sang popular jazz songs for the evening's entertainment.
The Literacy Network invited families from the Price Hill area. There were over 50 people in attendance. The majority of the crowd consisted of families from Resurrection Catholic School and St. William Elementary School, where the Literacy Network holds Children's Basic Reading classes. There were also guests from St. Lawrence Elementary School and Carson Elementary School. Several employees from TriHealth Young Professionals also volunteered at the event.
"Family Literacy Night was such a fun-filled event, enjoyed by all who attended," Literacy Network Basic Reading Coordinator Liz Priestle stated. "The smiles on the kid's faces truly showed how excited they were to be there with their families. We were honored Learning Through Art reached out to us again to partner on this wonderful night and thanks to Tri-Health for sending all the awesome volunteers!"
---
About the Literacy Network
The Literacy Network champions the development of literacy in the individual, the family, the workplace, the school and the community by raising awareness, improving access and serving as a catalyst for literacy efforts. The Children's Basic Reading Program (CBRP) provides free classes in eight different schools in the Cincinnati and Northern Kentucky areas to children who have reading deficiencies or symptoms of dyslexia. All programs for adults and children are free and funded with private grants, donations and fundraising efforts. For more information, please call (513) 621-READ or visit www.LNGC.org.