Meet Rudy – Badin's first four-legged faculty member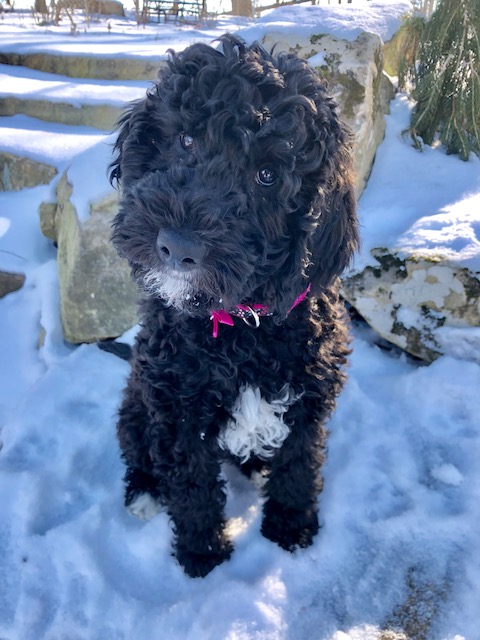 There will be a third member of the Badin High School guidance department starting this week … and she will belong to the whole school.
Rudy, a black multigenerational Australian labradoodle therapy dog, will be a welcome presence at Badin as she becomes a valuable member of the Badin Family.
"We're very excited," said Badin guidance counselor Mrs. Angie Bucheit, whose family will provide a home for Rudy when she is not at Badin. "This is an innovative idea to meet the needs of the students."
Fellow guidance counselor Brion Treadway called it a slam dunk for enriching the student experience at BHS.
"We are student advocates who do whatever we can to help our students be successful," Treadway said. "Rudy will help them be successful."
The impetus for Rudy came through ongoing conversations about enhancing the school environment … and, according to Bucheit, prayer that led her to a fortuitous encounter with the Charlotte Helen Bacon Foundation.
"I prayed about this and God led me to the foundation," Bucheit said matter-of-factly.
Charlotte Helen Bacon was a six-year-old student and one of the tragic victims of the shooting at Sandy Hook Elementary School on Dec. 14, 2012, in Newtown, Conn. Her family has established the Charlotte Helen Bacon Foundation to "share Charlotte's passion, kindness and tender care for animals … including the Charlotte's Litter therapy dog program."
"When you hear the story about Charlotte Helen Bacon, you can't help but be moved by it," Bucheit said. "She was a breath of fresh air in the world around her, and she loved animals. It was as if God spoke to us; that this was supposed to happen."
Therapy dogs are a source of calm in numerous settings and other schools have brought dogs in for their positive impact on what can be a stressful environment.
"We had been talking about all of the benefits of having a therapy dog at Badin," said BHS Principal Brian Pendergest, "and then the Charlotte Helen Bacon Foundation came onto our radar. Once we started looking into the possibilities, it was as if everything else fell into place."
The grant Badin received from the Charlotte Helen Bacon Foundation laid the groundwork for making a therapy dog possible at BHS.
"Once companies found out that Badin was working to get a therapy dog, they have gone out of their way to help make it happen," Bucheit said. "There are so many details involved in having a therapy dog, but local companies have checked every box and answered every concern so that Rudy will be an integral part of our school community."
Community sponsors include Pet Wants Hamilton, which will provide the food; Mike's Mobile Veterinary Service, which will provide ongoing medical care; and Soft Touch Pups Grooming, which will offer monthly grooming. Pet People and Pet Valu have also provided assistance for Rudy.
Rudy will be in school on a daily basis, and also be an ambassador for Badin at high-profile events. During the summer, Rudy will work with the Hamilton Police Department at Safety Town and various community events, and spend her days at police headquarters.
"From concept to reality, this whole idea has been such a joy to make happen," Bucheit said. "Our mascot is the Ram, but Rudy will be our inspiration."
Rudy will be introduced to the Badin students during an all-school assembly in Mulcahey Gym at 10:30 a.m. Thursday, March 22.
Charlotte Helen Bacon was one of 20 students, ages six and seven, who perished in the 2012 shootings, along with six faculty members, at Sandy Hook Elementary.
The Bacon Foundation's website says it was founded to:
• Honor Charlotte's love and passion for dogs through our Charlotte's Litter therapy dog program
• Honor Charlotte's dream of becoming a veterinarian through our Charlotte Bacon Veterinary Education Scholarship
• Honor Charlotte's absence from all of our lives through our Charlotte Helen Bacon Selah Scholarship
• Honor bereaved families who have suffered the death of a beloved child through our Charlotte Bacon Bereavement and Grief Research Initiative