Months since major quake, Maryknoll missionary still serving Nepal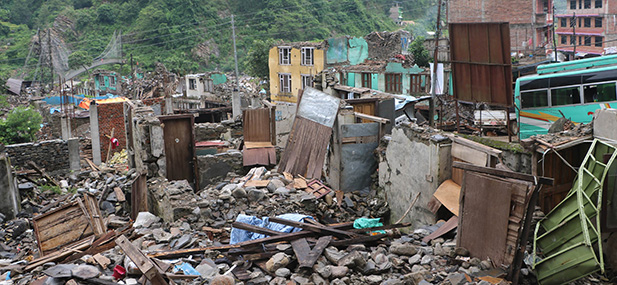 By John Stegeman
The Catholic Telegraph
Maryknoll Father Joe Thaler has spent nearly 30 years serving the people of Nepal, but since last April his workload has increased.
On April 25, a 8.1 magnitude earthquake struck Nepal, destroying lives and homes. More than 9,000 people have died to date from the quake and its aftershocks.
Father Thaler, through Maryknoll, has a signed agreement with the Nepalese government to wok on Human Development projects, such as a sewing program to help poor Nepalese become self-sustaining. In the wake of the quake, he's had to do even more.
"Because of my long time of working in Nepal I have been approached by many people in various villages to offer assistance in rebuilding homes and schools," Father Thaler said. "In one village called Bhimtar the damage was very severe. There are about 1,200 homes in this village and 900 homes were destroyed along with six schools partially or fully destroyed. This village of Bhimtar is made up mainly of "low caste" families and it was a village that Maryknoll was targeting for our income generating projects. So when the earthquake occurred the village people immediately came and requested assistance."
So in addition to the sewing program, child development, outreach, scholarships etc., Father Thaler said Maryknoll has taken on the responsibility to rebuild 900 homes and six schools.
"At the same time I am providing assistance in other parts of Nepal in rebuilding plus have made a commitment to help all of the differently abled people and their families who have graduated from our sewing program, this number is about 300 families," he said. "So yes, my life is a bit busier but again I am very blessed to have a wonderful Maryknoll team of office staff as well as local NGO's that I am able to collaborate with on all aspects of the work."
In some respects, Father Thaler said life has returned to normal in Nepal since the quakes, but the landscape and many lives remain forever changed. Schools and government offices have mostly reopened, but the damaged infrastructure has taken a toll on tourism, which is a major source of income for many Nepalese.
"Overall I would say that the situation has improved," Father Thaler said. "A lot of people are receiving care and assistance and many people are working together to build a better and stronger Nepal.  Of course the trauma and the wounds from the earthquake will take time to heal but overall I have seen progress since the initial earthquake of April 25th."
Father Thaler was in Indonesia for Maryknoll meetings when the earthquake hit. He returned to chaos. One runway was operating at the Nepal airport and in addition to travelers, aid was arriving en masse.
"The airport was a total mess," he said. "There is just one runway for the one international airport in Nepal and skids and skids of bounded supplies lying everywhere as Nepal did not have the equipment to move much less store the supplies that were arriving."
On his way back to his home, he saw buildings down and the body of a man lying in the street. Such events could shake the faith of a nation or a missionary, but Father Thaler said his faith and the faith of people in Nepal has only grown.
"Since the earthquake I have seen many of the religious festivals celebrated as much or more than before," he said. "As a Missioner you cannot help but be influenced by the faith and spirituality of the people you live and work with.  So yes, I would say that my faith has gotten stronger and deeper and if anything I am more thankful for the many blessings that I see each day."
While the situation has improved, much more needs to be done. Father Thaler noted that Nepal received a great deal of aid after the quake, but that people still need help.
"Most of what the Nepalese continue to need are supplies, locally available, to build their homes and schools and water supply systems and toilets and community buildings," he said. "So financial is the most needed and important. But for sure the bottom line is we need prayers. Prayers for Nepal, prayers for a constitution to be finally drafted in Nepal, prayers for peace in Nepal, prayers for good and honest leadership in Nepal, prayers that there will be no  more earthquakes and landslide, prayers for a good harvest so that the people will have enough to eat, prayers for jobs and prayers for unity among the different ethnic and religious groups and we need prayers for each one of us to be faithful to what service God has called us to in Nepal. Indeed, this is the greatest need. Prayers for Nepal!"
Anyone interested in donating to the Earthquake relieve efforts in Nepal can donate by mailing a check, made out to "Maryknoll Fathers and Brothers" to:
Cashiers Office
Maryknoll Fathers and Brothers,
P.O. Box 302,
Maryknoll, New York,
10545-0302, USA
Father Thaler said donors should request that the funds be placed in the Mission Account (1814) of Father Joe Thaler, M.M. for earthquake relief work in Nepal.
This story originally appeared in the Mission Section of the October 2015 print edition of The Catholic Telegraph.