New Jersey bishop urges people to do more to protect environment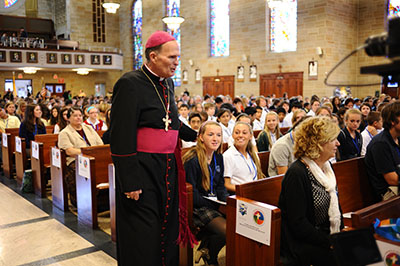 By Christina Leslie Catholic News Service
MANASQUAN, N.J.– Bishop David M. O'Connell of Trenton, New Jersey, called on Catholics to examine their consciences and to take important steps to protect the environment during a Mass marking the World Day of Prayer for Care of Creation.
He urged the hundreds of people in attendance "to decide what actions we must take here and now, not when it's too late" during the Mass Sept. 1 at Our Lady Star of the Sea Chapel in the ocean-side community that was severely damaged by Superstorm Sandy nearly three years ago.
Massgoers drove, walked or bicycled to the small church affectionately known as St. Denis Parish's "beach chapel," which had been nearly destroyed by the storm in October 2012. They joined about 20 priests including Father William Lago, St. Denis pastor.
Befitting the location of the chapel, a long block from the Atlantic Ocean, many congregants were casually dressed in shorts, T-shirts and sandals. Even Bishop O'Connell joked that he and his fellow clergy were clad in bathing suits beneath their clerical robes.
The mood soon turned serious. When the bishop asked those gathered how many had been directly affected by Sandy, many hands rose and faces reflected the grief of loss, uncertainty and despair inflicted by the storm.
Father Lago estimated that about one-third of the people at the Mass were from St. Denis and many of them regularly worshipped in the small chapel, which was inundated by the storm surge. A plaque marking the height of the water that had filled the chapel is at the entrance.
Recalling Sandy, which laid waste to much of the Jersey shoreline, Bishop O'Connell said, "We simply did not anticipate what nature can do to us."
The bishop cited Pope Francis' encyclical "Laudato Si', on Care for Our Common Home," and drew a parallel between the natural disaster and the pope's call to protect "Sister Earth" which "cries out because of the harm we have inflicted on her by our irresponsible use and abuse of the goods with which God has endowed her."
"Pope Francis is sounding the alarm, the warning," Bishop O'Connell said. "We cannot, we must not remain unprepared for this storm of our own making."
He also answered critics who dismiss the pope as a naysayer and concerned with issues on which he is not qualified to speak.
"The negative effects of our unrelenting assaults on the environment, what (the pope) calls 'one of the principal challenges facing humanity in our day,' extend far beyond air, water, oil, energy, land and climate," the bishop said. "These assaults are symptoms of a 'throwaway culture' that places little value on the human beings and their sacred, God-given dignity and worth."
Worshippers welcomed the day of prayer for creation.
Barbara Strout, a catechist in St. Denis Parish who teaches children preparing for their first Communion, said she found the gathering to be "joyful" and was moved by the bishop's reference to Sandy.
"I live four streets from here, and I had to evacuate my home when the storm hit." Strout said she was out of her home for a week. But she considers herself to be among the lucky ones. "Because my house was elevated, (I) didn't get it as bad as the neighbors did," she said.
With still-vivid memories, Strout felt called to heed the bishop's homily. "It made me think that I have to be a lot more responsible. I have to get more involved in being part of the solution, instead of part of the problem," she said.
Frank and Laura Venezio were among worshippers who traveled a distance to attend the Mass. Frank Venezio, a retired police officer, said attending daily Mass and a greater interest in his faith are all part of what he considers a new chapter in his life.
"He really gave a great sermon," Frank said of Bishop O'Connell. "We try to do our part, we recycle and all that, but this was a call to do more. It was very moving."
– – –
Leslie is a staff writer at The Monitor, newspaper of the Diocese of Trenton.
Posted Sept. 9, 2015