September Preview: Defunding Planned Parenthood, preparing for the Pope and more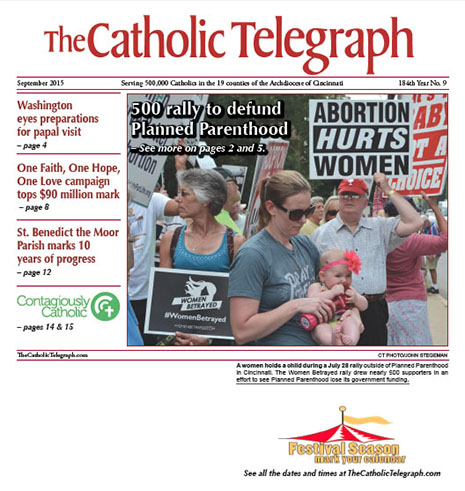 Staff Report
The September edition of The Catholic Telegraph is reaching mailboxes Friday, Aug. 28, and throughout the weekend. Here's a glance at what you can expect when your copy arrives.
Not a subscriber yet? Fix that HERE at no personal cost.
The cover story of the edition highlights the July rally in Cincinnati to defund Planned Parenthood. On the pro-life front, Director of the Archdiocese of Cincinnati Family and Respect Life Office Colleen Gerke writes a reflection in this issue on the sacredness of human life.
September also has a story by Menachem Wecker, a Washington, D.C.-based freelance journalist who reports on religion topics. The Catholic Telegraph has contracted Wecker to  provide exclusive coverage of the papal visit to the nation's capital and elsewhere. Sister Eileen Connelly will also have reports on the visit.
Speaking of Sister Eileen, the CT News Editor has a feature on the local Poor Clare Sisters who celebrated the 25th anniversary of their communities founding in the area.
An update on the One Faith, One Hope, One Love campaign reports that more than $90 million has been pledged.
Freelance writer Walt Schaefer has stories on LaSalle High School's drug testing program, a couple getting engaged at a church festival, a retired hospital administrator turned chaplain and a look at the progress of St. Benedict the Moor parish over the past decade.
More stories focus on Sister Dorothy Stang, Latino American History, the Rural-Urban Mass, the Food for All: Be Multiplied campaign and more, along with the usual lineup of columnists.
Many, but not all, of the stories from the September 2015 print edition will appear online over the course of the next month, but to make sure you don't miss a single story, subscribe to the print edition HERE at no personal cost.
Posted, August 28, 2015