Sister shares love of books through Media Center ministry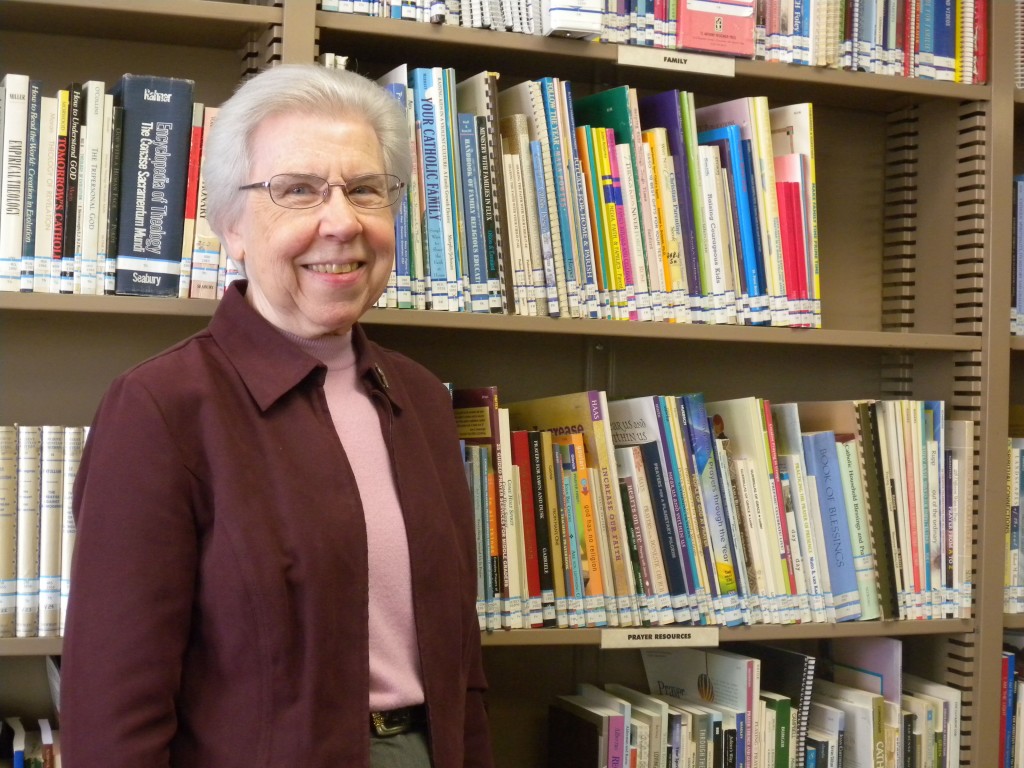 By Eileen Connelly, OSU
The Catholic Telegraph 
As a child growing up in St. Louis, Mo., one of Franciscan Sister Rose Marie Weckenmann's favorite activities was making a trip to the neighborhood library and returning home with stacks of books. How fitting then, that her love of the written word led Sister Rose Marie to a ministry that would enable her to share it with others through the archdiocesan Media Center in Cincinnati. 
Sister Rose Marie, an administrative assistant in the Media Center since 2001, will be retiring at the end of April and relocating to St. Francis Hall, an independent living area at her community's motherhouse in Oldenburg, Ind.
One of five children, Sister Rose Marie came to know and love the Oldenburg Franciscan Sisters as teachers in both grade school and high school. "The Sisters were so joyful and outgoing, and they loved us kids," she recalled. "That's what really drew me to them."
She entered the community in 1957 and professed her final vows in 1963. Sister Rose Marie, who holds a bachelor's degree in English from Marian University in Indianapolis and a master's in education from St. Louis University, spent 31 years as a teacher and school administrator before transitioning into ministry as a library assistant. She moved to Cincinnati in 1991 to accept a position with the Lloyd Library and Museum, which collects and maintains a library of botanical, medical, pharmaceutical, scientific books and periodicals.
While her work at the Lloyd Library was rewarding, after 10 years, she found herself being called to return to church ministry and learned of an opening in the Media Center from fellow Franciscan Sister Christine Doerger.
Sister Rose Marie's work in the Media Center has provided the opportunity to use her administrative and education skills in a variety of ways, such as handling the reservations and returns of media and equipment, processing, preview and shelving new materials, renewing periodical subscriptions and scheduling audio/video assisted courses for catechists.
The most rewarding aspect of her ministry, Sister Rose Marie is quick to point out, has been assisting patrons in locating and obtaining materials.
"I love interacting with the patrons," she said. "There are so many good folks out in the schools and parishes. We receive so many phone calls and emails from people who aren't exactly sure what they're looking for. I love helping them find the information and resources they need."
"Sister Rose Marie is one part lion and one part lamb," said Sean Ater, director of the archdiocesan Office of the New Evangelization. "It was this combination that created a hospitable environment on the seventh floor, and kept our Media Center working like clockwork."
As her ministry in the Media Center draws to a close, Sister Rose Marie said she will miss her colleagues, but is looking forward to what the future holds and is "eager about moving on to new possibilities." Her plans include pursuing activities that energize her, like contemplating nature, spending time with friends, listening to music, taking part in outdoor activities, and, of course, reading.
"It is in the ordinary that I have learned to live life," she said. "Being attuned to the present moment brings me in touch with God, myself and others. Everything is a gift. I am grateful for all that has been and continues to be part of my journey."
This story originally appeared in the April 2014 print edition of The Catholic Telegraph.