St. Max children's choir performs at Reds game [Video]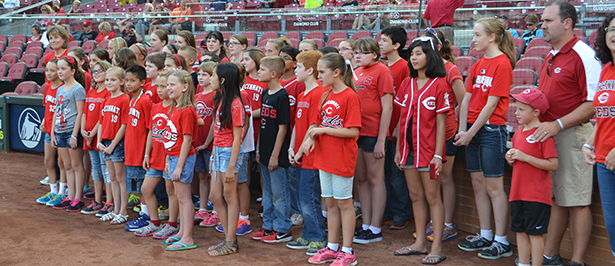 By John Stegeman
The Catholic Telegraph
See video below
About 40 members of the St. Maximilian Kolbe Children's Choir took to the field at Great American Ballpark Friday, Aug. 22 to participate in the tradition of singing the national anthem prior to Cincinnati Reds' games. The choir performed in front of a large GABP crowd that included roughly 300 parishioners from St. Maximilian Kolbe. The outing was part of the parish's 25th anniversary celebration.
The children's choir, directed by Mary Ella Wielgos, finished the Star Spangled Banner in one minute and 19 seconds before receiving a nice ovation from the home crowd. For the students, it was a step up from previous public performances.
"We've sung at a Dayton Dragons game the last couple of years so we decided to take the next step up and sing for the Reds," said Jeremy Helmes, pastoral associate for liturgy and music at St. Max. "The church has always been called to participate in civic life. If that means singing at a Reds' game, we're in."
The choir has sung at three Dayton Dragons games previously, but Katie Barach, a St. Max alum and a freshman at Lakota West High School, said singing for the Reds was different.
"I remember before, I was nervous and my heart was racing," Barach said. "Then I got out on the stage and I felt so calm, which is really surprising. Overall, I can't believe I actually did that. I'm so happy."
Wielgos echoed that feeling.
"It was absolutely exciting," Wielgos said. "They serve so faithfully throughout the year, to have something like this was so special for them. They're going to remember it forever."
Though Wielgos is originally a Chicago Cubs fan, she sported Reds gear on Friday and said she has become a Reds fan while living in Cincinnati. When the Cubs come to town, that changes.
Still, Wielgos said she is pleased to be part of a parish with such a thriving music ministry among the youth.
"Our parish is fantastic with the way it invites the youth to participate in the liturgy in different ways," she said. "Music ministry has just exploded in the past four years or so."
Barach, a three-year veteran in the children's choir, advised others in the parish community to consider getting involved as well.
"I never thought it my wildest dreams that if I joined something like this, that I'd get to sing at baseball games and make new friends," she said. "I'm so happy that I did the children's choir.
"The children's choir is fun," she added. "If your parents want you to do it, do it!"
The Reds went on to lose Aug. 22 to the Atlanta Braves, 3-1.
Posted Aug. 25, 2014