Throwback Thursday 1954: Limited use of English permitted in rituals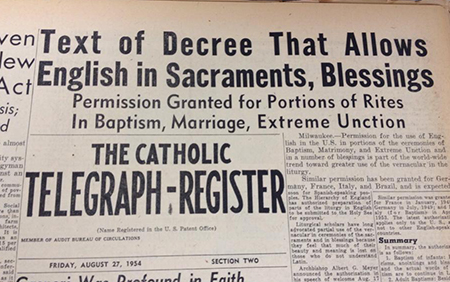 Staff Report
It was 60 years ago yesterday that Catholics in the Archdiocese of Cincinnati received word via The Catholic Telegraph-Register that the Vatican had approved the use of some English during the administration certain sacraments.
Permission was granted to use English in portions in baptism, matrimony, the anointing of the sick, and in parts of funeral rites.
The rituals were approved by the American bishops unanimously in 1953 and the Sacred Congregation of Rites submitted it it on June 3, 1954. It was approved by Pope Pius XII. The news was delivered to Americans via Archbishop Albert G. Meyer of Milwaukee on Aug. 17, 1954, during Milwaukee Liturgical week. The Catholic Telegraph-Register report is from coverage of that event.
Similar permissions to use the vernacular language were granted in France in 1948, Germany in 1949 and Italy in 1953.
In the same issue it was reported that: the Knights of Columbus announced their support for Congressional investigations into potential communists; the Communist regime of Czechoslovakia announced it would withhold pensions from any retired priest who continued to say Mass; and in the Philippines Catholics were forbidden from joining the YMCA or YWCA over matters "contrary to Catholic doctrine."
Welcome to The Catholic Telegraph's edition of Throwback Thursday. Throwback Thursday is a weekly online activity wherein users of social media share an old photo or anecdote about times gone by. We plan to use Throwback Thursday to highlight the history of the Archdiocese of Cincinnati, and our publication.
Posted Aug. 28, 2014