Throwback Thursday: Archbishop Elder's sick call box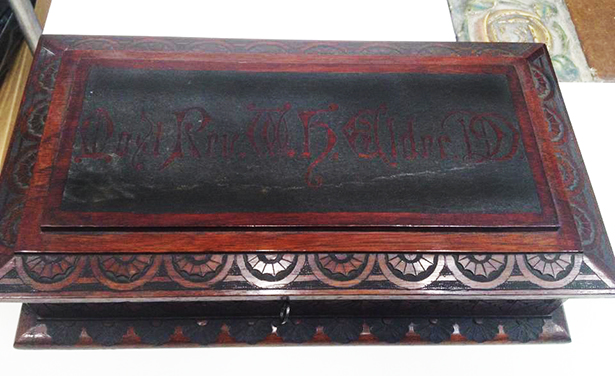 Staff Report
The bishops of the Catholic church have no shortage of important duties in running the administrative and pastoral affairs of their dioceses. That said, bishops still administer the sacraments and sometimes the tools they use to do so are preserved for history's sake.
March 22 would have been 196th birthday of The Most Reverend William Henry Elder, third bishop and second Archbishop of Cincinnati. With that in mind, an item of the late archbishop is the subject of today's Throwback Thursday.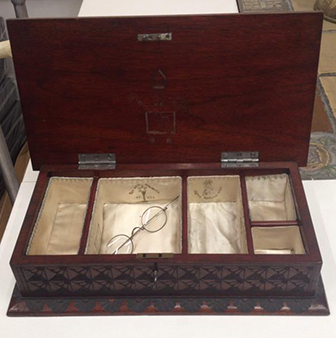 Archbishop Elder, who's name is forever remembered in his namesake Elder High School, is best remembered for his administrative success. While taking over a diocese struggling with financial difficulties, he never ceased in his pastoral care, as evidenced by a sick call box of his preserved in the Chancery Archives of the Archdiocese of Cincinnati.
Sarah Patterson, archivist for the archdiocese, assisted the Throwback Thursday team in finding the sick call box.
The wooden box is inscribed "Most Rev. W. H. Elder" on the top and inside contains various compartments that are padded and lined. Latin phrases and various iconography appear inside as well. While a sick call box from this era would usually contain holy water, holy oil, candles and more related to the administration of Last Rites (now better know as the Anointing of the Sick), all that remains in the archbishop's box is a pair of his spectacles.
While Archbishop Elder reopened the seminary, instituted the position of chancellor and helped the diocese reduce a great debt, the sick call box reminds us that he also was a priest who heeded the call to care for the sick.
Welcome to The Catholic Telegraph's edition of Throwback Thursday. Throwback Thursday is a weekly online activity wherein users of social media share an old photo or anecdote about times gone by. We use Throwback Thursday to highlight the history of the Archdiocese of Cincinnati, and our publication.
Recent Throwback Thursdays
When Dayton won it all — sort of
Bishop on a bulldozer
Remembering Sister Dorothy Stang
Catholic Press Month
Basketball Bishop
Posted March 26, 2015