Throwback Thursday: Auxiliary bishop's resignation leads to new archbishop

On June 20, 2007, Auxiliary Bishop of Cincinnati Carl K. Moeddel's resignation for health reasons was accepted by the Vatican.
Changes in the episcopacy are major events in the history of a diocese, and this change is the focus of today's Throwback Thursday. Bishop Moeddel's resignation, which was significant by itself, is also notable because it led directly to a bishop from Duluth, Minnesota named Dennis M. Schnurr being assigned to the Archdiocese of Cincinnati.
Bishop Moeddel's resignation was covered in the June 22, 2007 edition of The Catholic Telegraph.
For readers who may not remember, Bishop Moeddel served as Auxiliary Bishop of this archdiocese from August of 1993 until his resignation. A Cincinnati native, Bishop Moeddel was ordained a priest by Archbishop of Cincinnati Karl J. Alter in 1962.
By 1963 he was pastor of St. Louis downtown and assistant chancellor of the archdiocese. From 1976 to 1985 he was the pastor of the Cathedral of St. Peter in Chains. As auxiliary bishop he served in many capacities including vicar general and director of the offices of pastoral services and priest personnel.
He resigned for health reasons as a result of vascular dementia connected with previous strokes and diabetes.
Upon his resignation, then-Archbishop of Cincinnati Daniel E. Pilarczyk told The Catholic Telegraph, "Since he became auxiliary bishop in 1993, he has been my righthand man. I will sorely miss having the benefit of his wisdom, energy and experience."
The Catholic Telegraph report on Bishop Moeddel's resignation included well-thought out passage concerning what might happen next.
"It is not known yet whether Pope Benedict will name a new auxiliary bisho for the Archdiocese of Cincinnati, to whether he might name a coadjutor archbishop, since Archbishop Pilarczyk is a little more than two years away from the age at which, according to canon law, he must offer his resignation. A coadjutor becomes head of a diocese upon the death or resignation of his predecessor."
The Archdiocese of Cincinnati was without a second bishop from June 20, 2007 until October 17, 2008. On that date Pope Benedict XVI named Bishop of Duluth Dennis M. Schnurr to the role of coadjutor Archbishop of Cincinnati with the right of succession. Archbishop Schnurr took over upon Archbishop Pilarcyzk's resignation on Dec. 21, 2009.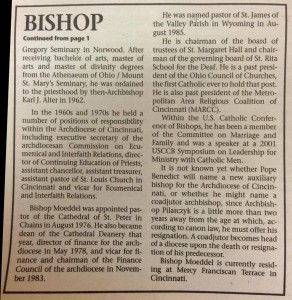 The archdiocese would be without an auxiliary bishop proper from Bishop Moeddel's resignation until the appointment of present Auxiliary Bishop Joseph R. Binzer.
Bishop Moeddel died on August 25, 2009, but his resignation was the first step in the arrival of the archdiocese's present bishops.
Welcome to The Catholic Telegraph's edition of Throwback Thursday. Throwback Thursday is a weekly online feature wherein users of social media share an old photo or anecdote about times gone by. We use Throwback Thursday to highlight the history of the Archdiocese of Cincinnati, and our publication.
Recent Throwback Thursdays
Historic papal election, itty bitty headline
Little Sisters of the Poor home dedicated 40 years ago
Seven men ordained priests in 2009
John Paul II survives second assassination attempt
Consider getting the print edition