Throwback Thursday: Cathedral under construction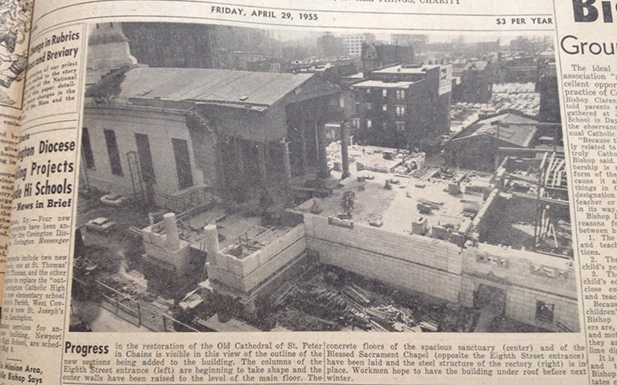 Staff Report
If the above photo of the Cathedral of St. Peter in Chains is worth a thousand words, the Throwback Thursday team is relieved to know there isn't much to type.
Put as succinctly as possible; Construction began on the cathedral in 1841 and it was dedicated in 1845. It fell into disrepair in the 1930s and ceased to be a cathedral for nearly 30 years. In the 1950s under Archbishop Karl Alter, St. Peter in Chains underwent restoration and expansion (seen above) and was rededicated a cathedral in 1957.
The black and white photo accompanying this post appeared in The Catholic Telegraph 60 years ago yesterday, in 1955. Uniquely, the photograph above appears to have been taken from north of the cathedral, possibly from Cincinnati City Hall. Most photos taken from above the cathedral today are taken from the south or eastern sides.
The cutline of the photo reads: "Progress in the restoration of the Old Cathedral of St. Peter in Chains is visible in this view of the outline of the new sections being added to the building. The columns of the Eighth Street entrance (left) are beginning to take shape and the outer walls have been raised to the level of the main floor. The concrete floors of the spacious sanctuary (center) and of the Blessed Sacrament Chapel (opposite the Eighth Street Entrance) have been laid and the steel structure of the rectory (right) is in place. Workman hope to have the building under roof before next winter."
More than 20 bishops have been consecrated within the cathedral's walls of St. Peter in Chains and it continues to serve the Archdiocese of Cincinnati today as one of its most treasured churches.
Welcome to The Catholic Telegraph's edition of Throwback Thursday. Throwback Thursday is a weekly online activity wherein users of social media share an old photo or anecdote about times gone by. We use Throwback Thursday to highlight the history of the Archdiocese of Cincinnati, and our publication.
Recent Throwback Thursdays
Birth of a papacy
A Tower of Faith
The Death of John Paul II
Archbishop Elder's Sick Call Box
When Dayton won it all — sort of
Posted April 30, 2015