Throwback Thursday: 'Lest we forget' Memorial Day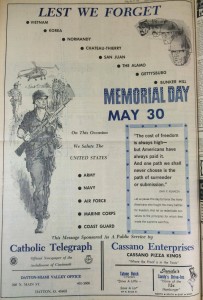 On Memorial Day, the United States pauses to remember the men and women who died in service to our nation's military.
Joining with all those who will celebrate this holiday May 30, The Catholic Telegraph staff expresses its appreciation and prayers for all who died in service to the nation, and additionally to all who continue to serve.
The main image for today's #ThrowbackThursday comes from the May 26, 1966 edition of The Catholic Telegraph. It is a full page ad sponsored by the newspaper and handful of local businesses intended not to sell anything, but to thank and honor those for whom Memorial Day is celebrated.
Also included in this post is small clipping from a mid-1940s edition of The Catholic Telegraph. During World War II, almost every issue of the newspaper included a casualty report of Catholic men who died in the war.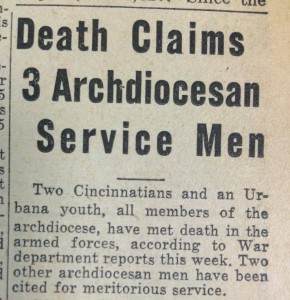 Catholics can do more than honor the dead, they can pray for them. With that in mind, please visit TheCatholicTelegraph.com's Mass Times listing for special Memorial Day Masses at local cemeteries and read below a Prayer for Memorial Day, obtained from USCCB.org.
God of power and mercy,
you destroy war and put down earthly pride.
Banish violence from our midst and wipe away our tears,
that we may all deserve to be called your sons and daughters.
Keep in your mercy those men and women
who have died in the cause of freedom
and bring them safely
into your kingdom of justice and peace.
We ask this though Jesus Christ our Lord.
Amen
Welcome to The Catholic Telegraph's edition of Throwback Thursday. Throwback Thursday is a weekly online feature wherein users of social media share an old photo or anecdote about times gone by. We use Throwback Thursday to highlight the history of the Archdiocese of Cincinnati, and our publication.
Recent Throwback Thursdays
Seven men ordained priests in 2009
John Paul II survives second assassination attempt
Feast of the Ascension 
Students prep for first communion
Consider getting the print edition