Throwback Thursday: Li'l Sisters keep kids in line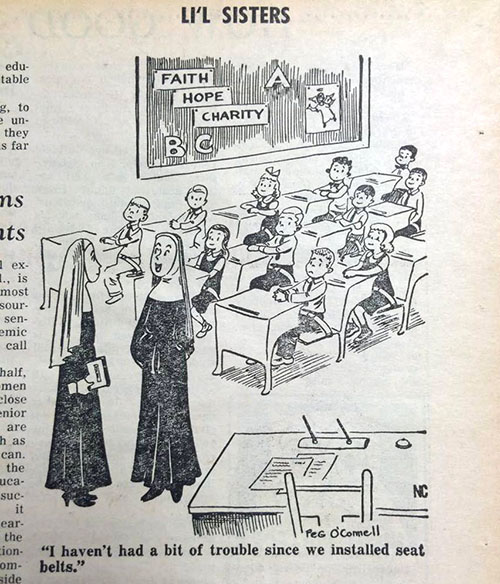 Catholic Schools Week is still a few weeks away, but the Throwback Thursday team couldn't pass the opportunity to share this cartoon from a 1960s supplement to The Catholic Telegraph-Register.
In the cartoon, a pair of young nuns serving in educational ministry discuss student discipline.
"I haven't had a bit of trouble since we installed seat belts," one sister tells the other. Behind the nuns are a mix of smiling and frowning boys and girls ready to learn.
The cartoon was drawn by Peg O'Connell, though that name is a pseudonym for Margaret Ahern. Ahern was a Chicago-area native whose cartoons became widely syndicated in the Catholic press. She died at age 78 in 1999.
Speaking of Catholic schools week, it begins this year on Jan. 31 and runs through February 6. See the forthcoming February 2016 print edition of The Catholic Telegraph for great stories about Catholic schools in the Archdiocese of Cincinnati.
Welcome to The Catholic Telegraph's edition of Throwback Thursday. Throwback Thursday is a weekly online feature wherein users of social media share an old photo or anecdote about times gone by. We use Throwback Thursday to highlight the history of the Archdiocese of Cincinnati, and our publication.
Recent Throwback Thursdays
Catholic School Grad Griffey Jr. makes Hall of Fame
Top 10 stories of the 1980s
Caroling with The Catholic Telegraph
Happy Birthday Holy Father
Teaching children the meaning of Advent