All video of the USCCB "Convocation for Catholic Leaders: The Joy of the Gospel," enumerated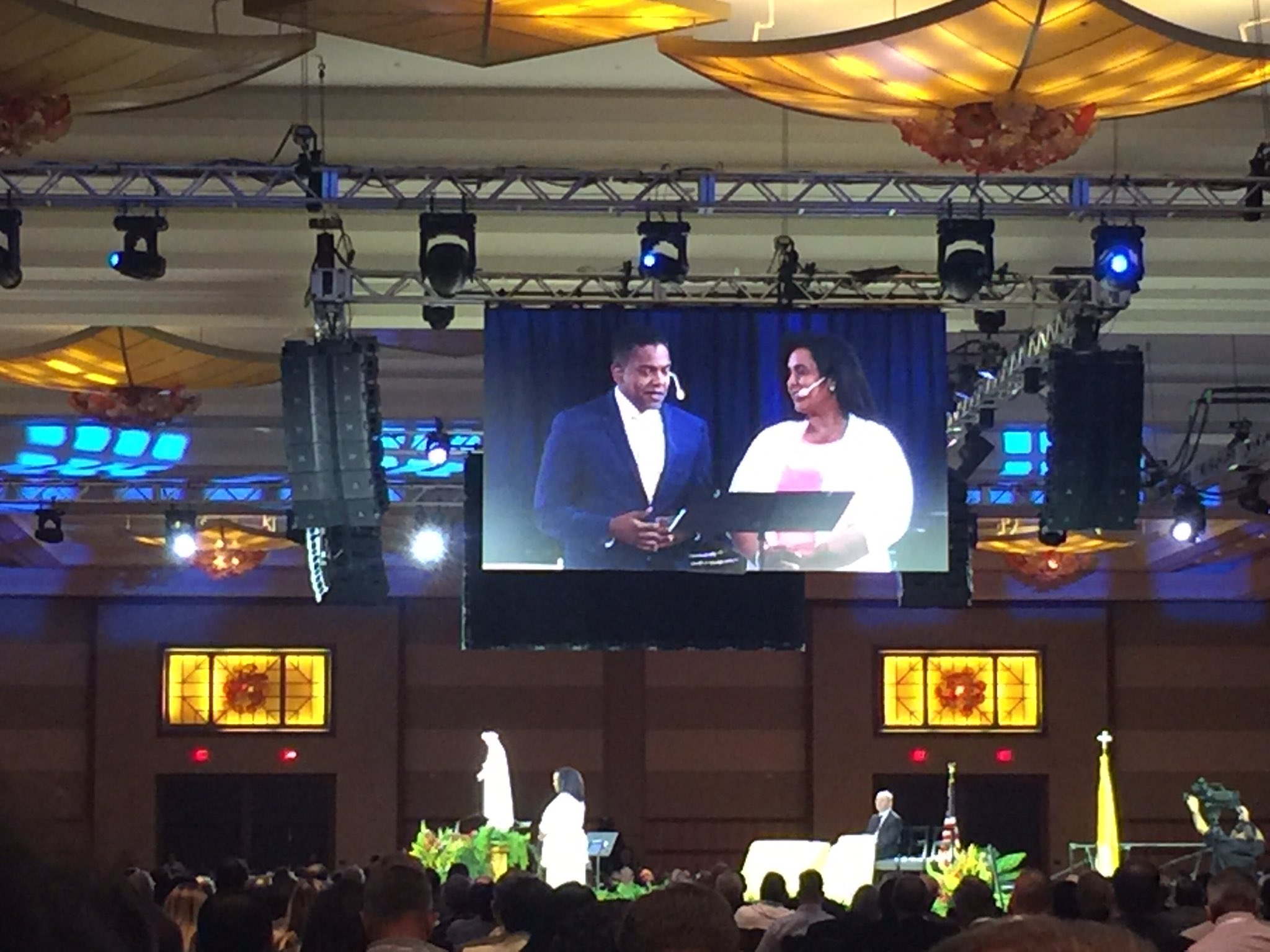 Most talks, Masses, and liturgies from the July 1-4 convocation, except musical performances and breakout sessions, are available to watch at the USCCB's "Convocation 2017 Video on Demand" page (link below). The page displays a video from each day. To see all the videos for each day, click on the icon of three small lines and an arrow that is at the top left-hand corner the video displayed for the day. That will take you to a menu of videos for that day, in chronological order. A fifth video leads to a list of all 33 videos.
http://www.usccb.org/issues-and-action/get-involved/meetings-and-events/convocation-2017/convocation-2017-live-stream.cfm
All the videos are also YouTube at the link below, where they are listed in reverse chronological order.
https://www.youtube.com/playlist?list=PLpTzvCOJa7DClAPQHoEQVv3skscx37UGo
Neither site lists the speakers or topics of the videos. Here's a list:
Day 1: Unity
1/6: Welcome from Bishop Edward Burns (Dallas) and Julianne Stanz, who shared M.C. duties; and Gloria Purvis, who served as moderator, song by gospel choir
2/6: Mass of the Holy Spirit, part 1: Welcome by Bishop Noonan (Orlando); address by Archbishop Christophe Pierre, papal nuncio; homily by Cardinal Dolan (New York)
3/6 Mass of the Holy Spirit, part 2
4/6: Evening devotions: Welcome and Marian reflection by Archbishop Garcia-Sille (San Antonio; Marian reflection by Bishop Holley (Memphis)
5/6: Evening devotion: Rosary prayed and sung in many languages by priests and men and women religious and by the event's house band
6/6: Catholic News Service overview of the day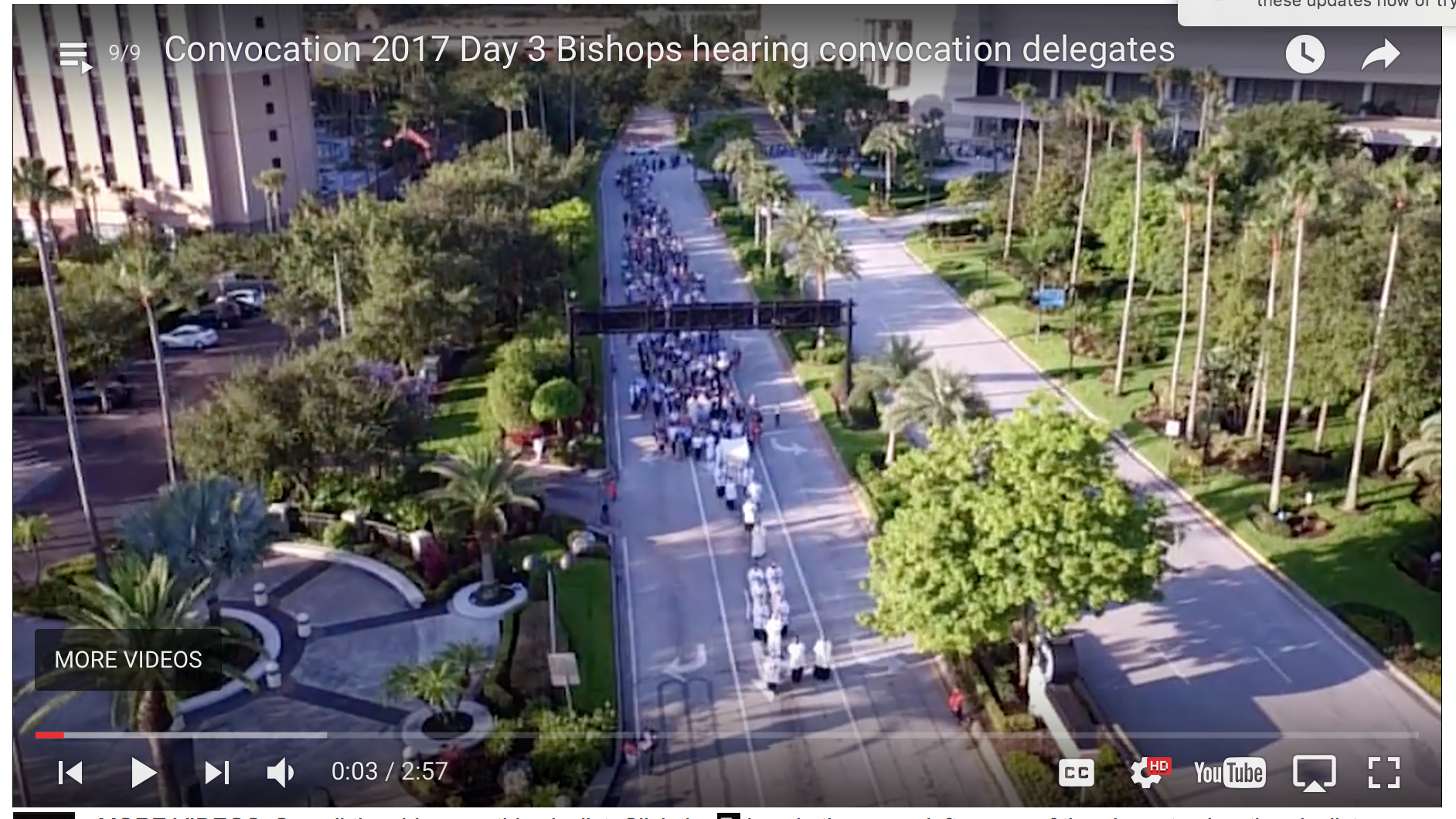 Day 2: Landscape and Renewal
1/10: Morning prayer (sung)
2/10: Knights of Columbus video; Archbishop Wenski (Miami) on the "Catholic landscape," Dr. Hosffman Ospino on research about Catholics in America
3/10 Personal witness by Damon and Melanie Owens; Plenary Session on the Mission Field, panelists: Helen Alvare, Jesuit Fr. Thomas Gaunt, CFR Fr. Agutsino Torres, Kerry Weber
4/10: Welcome and remarks by Archbishop Blair, (Hartford, CT); Plenary session on Missionary Discipleship, panelists: Bishop Caggiano (Bridgeport, CT), Fr. Rafael Capo, SOLT Sr. Miriam James Heidland, Curtis Martin, Sherry Weddell
5/10: Prayre and remarks by LSP Sr. Constantine Veit; Address by Cardinal Wuerl (Washington, DC)
6/0: Mass of Mercy and Renewal part 1: Homily by Archbishop Gregory (Atlanta)
7/10 Mass of Mercy and Renewal part 2
8/10: Evening of Adoration and Reflection, part 1: Remarks by Cardinal O'Malley (Boston), music
9/10: Evening of Adoration and Reflection, part 2: Music, reflections, Benediction
10/10: Catholic News Service overview of day 2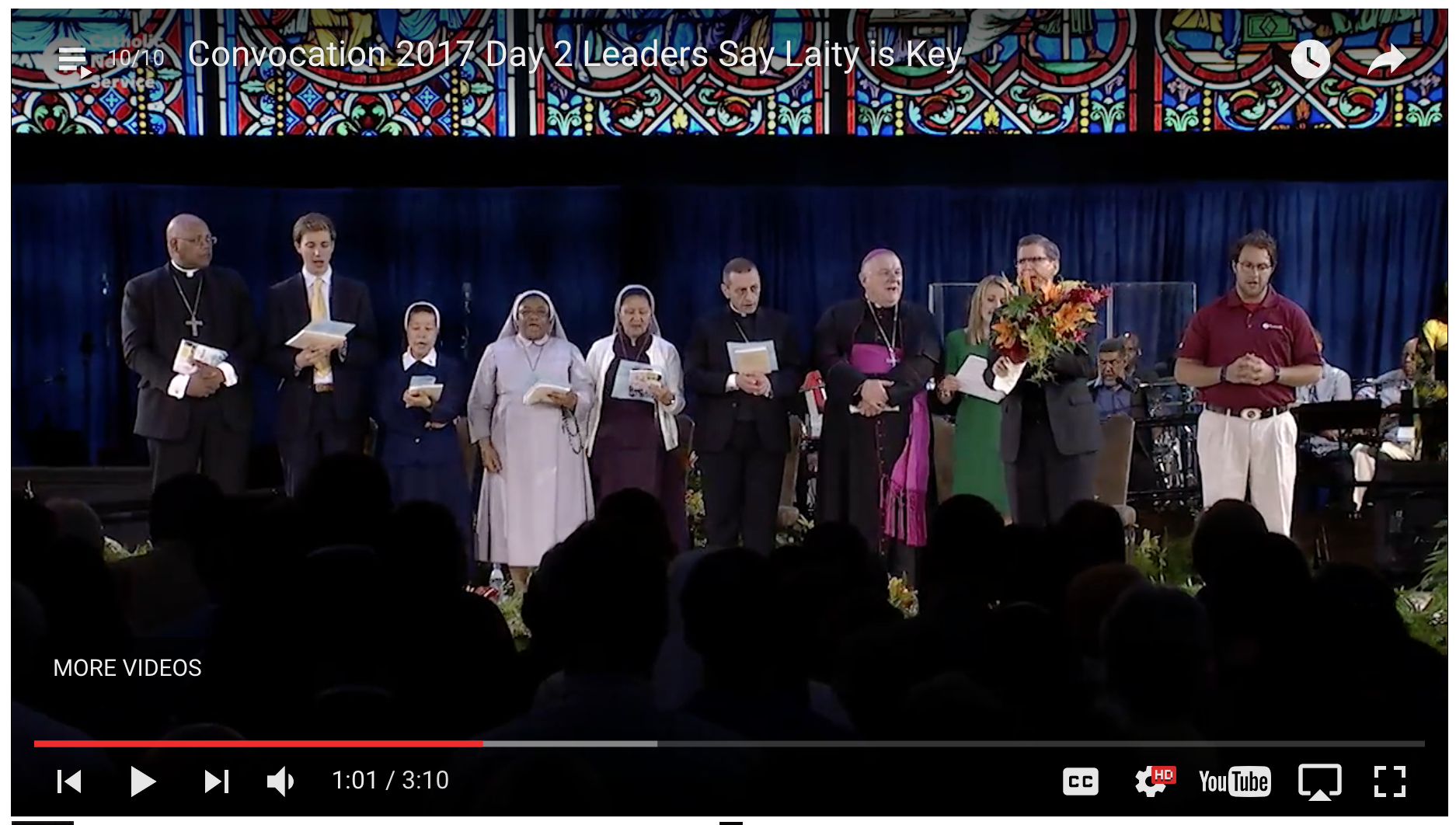 Day 3: Work and Witness
1/9: Outdoor Eucharistic procession with commentary
2/9: Eucharistic procession, part 2: Adoration, remarks by Archbishop Lori (Baltimore); EWTN live report
3/9: Plenary on Going to the Peripheries, part 1: Remarks by Carl Anderson, Supreme Knight of the Knights of Columbus
4/9: Plenary on Going to the Peripheries, part 2: Remarks by Bishop Tyson (Yakima, WA); panelists: Dr. Ansel Augstine, Fr. Paul Check, Kim Daniels, MJ Sr. Norma Pimentel, Dr. Carolyn Woo
5/9: Plenary on Going to the Peripheries, part 3: Remarks by Bishop Gomez (Los Angeles)
6/9: Keynote by Cardinal Tobin CSsR (Newark)
7/9: Fortnight for Freedom Mass, part 1: Homily by Archbishop Lori (Baltimore)
8/9: Fortnight for Freedom Mass, part 2
9/9: Catholic News Service overview of day 3
Day 4: A Spirit of Mission
1/6: Morning Prayer: Sung (contemporary music) and chanted prayer
2/6 Plenary session on Spirit-filled evangelizers, part 1; remarks by Bishop Malone (Buffalo); talk by Patrick Lencioni
3/6 {6 Plenary session on Spirit-filled evangelizers, part 2: Pesonal witness by Lucia Baez Luzando; Keynote by Bishop Barron (auxiliary, Los Angeles)
4/6: Mass of Sending, part 1: Homily by Crdinal DiNardo (Galveston-Houston); concluding address by Archbishop Christophe Pierre, papal nuncio; Msgr. Brian Bransfield, USCCB
5/6: Mass of Sending, part 2
6/6: Catholic News Service overview of day 4