July highlights: Married man on priesthood path, special music section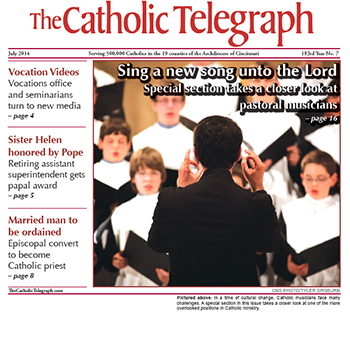 Staff Report
The July edition of The Catholic Telegraph will be mailed out soon and several major stories are included.
J. Thomas Wray, a married father of two and former Episcopal priest, has been accepted as a candidate for ordination to the Catholic priesthood. This is possible through the Pastoral Provision, approved by Pope St. John Paul II. The full story and a sidebar explaining the process are included in the July edition.
Also this July features a six-page special section on church musicians and their important ministry. The section includes a story on challenges facing pastoral musicians and a glance at several musicians in the archdiocese who have a family tradition of music ministry.
Sister of Mercy Helen Lucille Habig was honored with an award from Pope Francis, videos are being used to promote vocations, a local man has been ordained as a Jesuit and the Body & Soul feature takes a look at festival foods.
The July edition further features commentaries from Jeanne Hunt and Michael Daley as well as guest columnists Greg Hartman and Dave Scharfenberger.
If you are not a subscriber to The Catholic Telegraph but you live within the 19 county Archdiocese of Cincinnati, you can sign up at no cost by contacting [email protected] or calling him at 513-421-3131 extension 2215.