Sister of Mercy takes first vows in New Orleans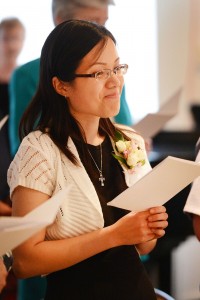 Sister Phuong Mai Dong made her first profession of vows as a Sister of Mercy on Aug. 6 at Loyola University's Ignatius Chapel in New Orleans with about 100 sisters, family members and friends attending.
The ceremony took place in both English and Vietnamese, including a song presented by Sisters of the Holy Rosary, who are Vietnamese.
Born in Vietnam, Sister Phuong came to the United States at age five with her mother, sister and other relatives, and her father finally was able to join the family 10 years later. Their pastor in Atlanta introduced Phuong to the Sisters of Mercy, and she entered the Mercy Welcoming Community in Cincinnati in 2012.
For two years, she ministered in the child-care division of Mercy Montessori School in Cincinnati, and then she entered Mercy's U.S. Novitiate in St. Louis in 2014.
During her apostolic year, Sister Phuong served as a teacher's aide at St. Alphonsus Catholic School in New Orleans, where she will continue to minister.
"When I first came to Mercy, I felt the sisters' warm welcoming and their love for me," Sister Phuong said. "I learned about the founder, Catherine McCauley, the ministries that the sisters are involved in and how they embrace one another in community life. From that, I believed that God was calling me to religious life with the Sisters of Mercy."
"It was truly amazing to experience the support for Sister Phuong as she professed her temporary vows as a Sister of Mercy," said Sister Carol Ann Wenning, incorporation minister for the Sisters of Mercy – South Central Community. "Sisters and family members traveled to New Orleans from New York, Philadelphia, Cincinnati, St. Louis, Atlanta, and Mobile to celebrate with Phuong on her special day. Temporary profession is a time for a sister to discern with others her ability to integrate prayer, community living and ministry."
In preparation for ministry, Sister Phuong looks forward to beginning her studies in elementary education at Xavier University in New Orleans.