Throwback Thursday: Looking back and moving forward with a new website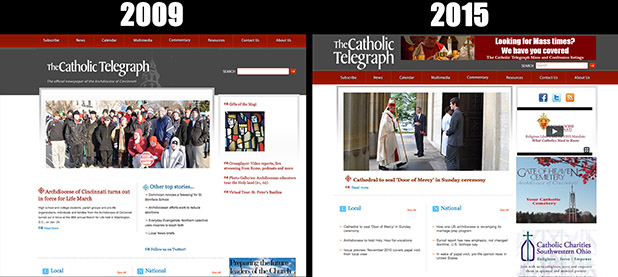 Staff Report
The Catholic Telegraph has been around for 184 years, but just less than 10 of those years have included an online presence. The current web site, which you're reading right now, was developed in 2009. For its time it was adequate to the needs of our readership, but big changes are coming.
The main image above is a side-by-side comparison of the basic 2009 design* (via a 2011 screenshot preserved by the internet archive "Wayback Machine.") with how the site looks today. While there have been minor tweaks, not much has changed.
Throwback Thursday was the first regularly appearing online-only feature of TheCatholicTelegraph.com, so it seems an appropriate a place as any to announce that late next month TheCatholicTelegraph.com will get a complete makeover.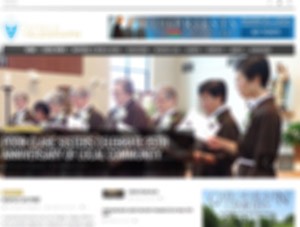 While our site has remained relatively unchanged since 2009, the internet has changed dramatically. Most people are reading this and other news sites on their phones or tablets, rather than traditional desktops or laptops. More people than ever are visiting these pages for the latest news from the Archdiocese of Cincinnati and the church in the world. As it is our mission to bring the good news of Christ to all in the archdiocese, we must adapt to better serve you in this regard.
U.S. Digital Partners has developed a new website that brings this publication into the modern age with bigger images, significantly easier navigation and user-friendly design. The new site includes responsive mobile design as well. We'll even be saying goodbye to our text-based logo (see top left, stacked white text) and our red-and-gray color scheme, though both will remain the standard for our printed monthly edition.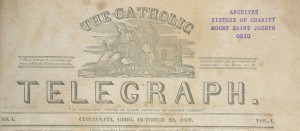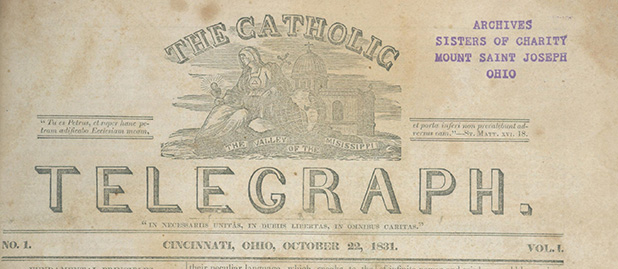 The Catholic Telegraph has had a lot of new looks since our founding in 1831. The masthead and logo have changed at least a dozen times and we're excited to show you our new online look in more detail — but you'll have to wait just a bit longer. We're excited about the future, and always mindful of our past. Please join us as we move this website forward to better share the Good News!
*While the image atop this post shows the 2009 design, it shows a 2011 version. The 2009 version of the site did not have a featured image. No screen shots could be found showing the original 2009 look.
Welcome to The Catholic Telegraph's edition of Throwback Thursday. Throwback Thursday is a weekly online activity wherein users of social media share an old photo or anecdote about times gone by. We use Throwback Thursday to highlight the history of the Archdiocese of Cincinnati, and our publication.
Recent Throwback Thursdays
The Catholic Telegraph turns 184
Supporting the Missions, then and now
Journalism education starts early
One more look at the papal visit
Make a newspaper into a papal miter
A glance at past papal pilgrimages
Posted Oct. 29, 2015