Mount St. Joseph University president stepping down at academic year end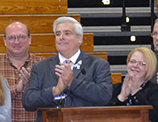 Press Release
Mount St. Joseph University president Tony Aretz has announced his resignation from his leadership role at the liberal arts institution effective with the culmination of this academic year.  
 "I have been honored the past seven years to lead this great university whose mission is lived daily by dedicated faculty, staff and students," Aretz said. "I have been able to complete many of the goals I had when arriving at the Mount and throughout the rest of my career, will reflect upon the many accomplishments we achieved with great pride."
Aretz came to the Mount in 2008 from Christian Brothers University in Memphis, Tenn., where he had served as academic vice president. He previously had been on faculty at the United States Air Force Academy and is a retired lieutenant colonel. During his seven-year tenure, the Mount grew from college to university, launched the Center for Ethical Leadership, the Vision2020 strategic plan, and created the career preparedness program, Talent Opportunity Program (TOP). The Mount also partnered with Education at Work, establishing an innovative on-campus work opportunity to help students manage the cost of tuition and enhance the affordability of their education. Several new majors, including graduate and doctorate degrees in nursing and business were also added. "We are grateful for Tony's years of service at the Mount," said Ken Stecher, chairperson of the board of trustees. "With Tony at the helm, the Mount successfully weathered the impact of the national recession to continue its vital and important role in this community and in the higher education landscape. As a result we are well positioned for success through the Mount's centennial year in 2020 and beyond." 
A search committee comprised of Trustees and others representing the faculty, administration, staff, students, alumni, and the Cincinnati community will conduct a national search for the next president to lead the Mount.
"In the name of all the Sisters of Charity I thank Tony for his generous, dedicated service as president of the Mount," said Sister Joan Cook, president of the Sisters of Charity of Cincinnati. "He has embraced the values of the Sisters of Charity and continued the Mount's tradition of academic excellence, respect and concern for all persons, and service to others, producing Mount graduates who make a positive impact on our world."
Posted March 3, 2015