Summer reading: Preview of July edition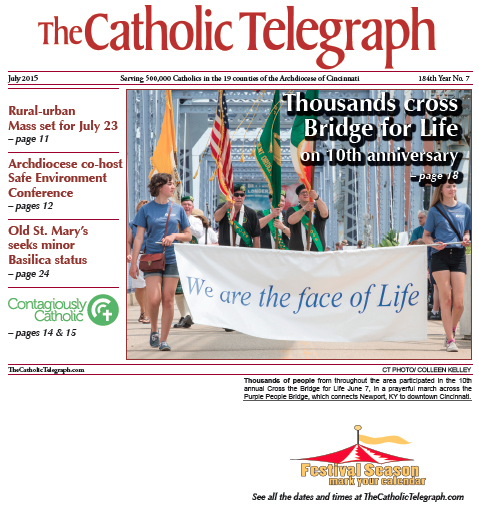 Staff Report
Summer life is life relaxed. Sitting by the pool, riding shotgun in the car on vacation or just taking a break on a bench while patronizing a parish festival, the summer season provides pockets of downtime for most.  Enjoy that downtime by reading the July 2015 print edition of The Catholic Telegraph when it reaches mailboxes next week.
Stories in this edition include the 10th annual Cross the Bridge for Life event (see cover), a glance at Laudato Si, updates on One Faith, One Hope, One Love and more. There's stories on refugees and immigrants, couples celebrating Golden Jubilees, and the usual breakdown of columns and features you've come to expect all packed into a summer-fun-sized 28-page edition.
This month's Body & Soul takes a break from the usual format of featuring a food-related-faith story to introduce Food for All: Be Multiplied, an initiative of the Archdiocese of Cincinnati to join Pope Francis in ending world hunger.
Another big story in this edition was referenced in a recent Photo Friday post. Old St. Mary's Catholic Church in Cincinnati's Over-the-Rhine is seeking designation as a minor basilica. If successful, it would make the historic church one of just 82 others in the U.S.
Many of the stories from the July 2015 print edition will appear online over the course of the next month, but to make sure you don't miss a single story, subscribe to the print edition HERE at no personal cost.
Posted, June 22, 2015