Throwback Thursday: Supporting the missions, then and now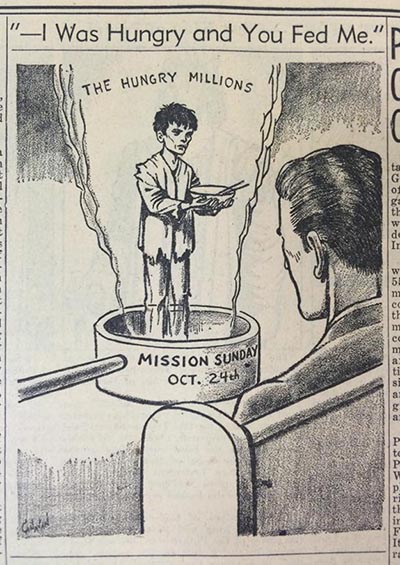 Staff Report
This Sunday, Oct. 18, is World Mission Sunday. It is a day set aside by Pope Pius XI in 1926 for the Catholic Church to renew its commitment to being a missionary church. Today's Throwback Thursday highlights an editorial cartoon on this very topic.
Published in the Oct. 22, 1954 edition of The Catholic Telegraph-Register, the attached cartoon shows a western man sitting in a church pew on World Mission Sunday 1954. Instead of an usher showing the man an empty collection basket, standing in the basket is a starving young man with an empty bowl representing, "the hungry millions."
From the time of Christ, to 1926, to 1954, to 2015, it remains the role of the Church too serve those in need at home and abroad through missionary activity. The Catholic Telegraph supports missions and offers the following links to stories from our October 2015 print edition's special section on Missions.
Mission Section 2015
World Mission Month: A letter from Archbishop Schnurr
Months since major quake, Maryknoll missionary still serving Nepal
Lay missionaries offer warm welcome at West Virginia hospitality house
Sister's efforts inspire students to support missions
Seminarian's time with Missionaries of Charity a "great blessing"
Welcome to The Catholic Telegraph's edition of Throwback Thursday. Throwback Thursday is a weekly online activity wherein users of social media share an old photo or anecdote about times gone by. We use Throwback Thursday to highlight the history of the Archdiocese of Cincinnati, and our publication.
Recent Throwback Thursdays
Journalism education starts earlyOne more look at the papal visit
Make a newspaper into a papal miter
A glance at past papal pilgrimages
Did Cincinnati almost get a papal visit?
Sisters of the Poor rich in… Elephants?
Posted Oct. 15, 2015