Mercy alumnae look back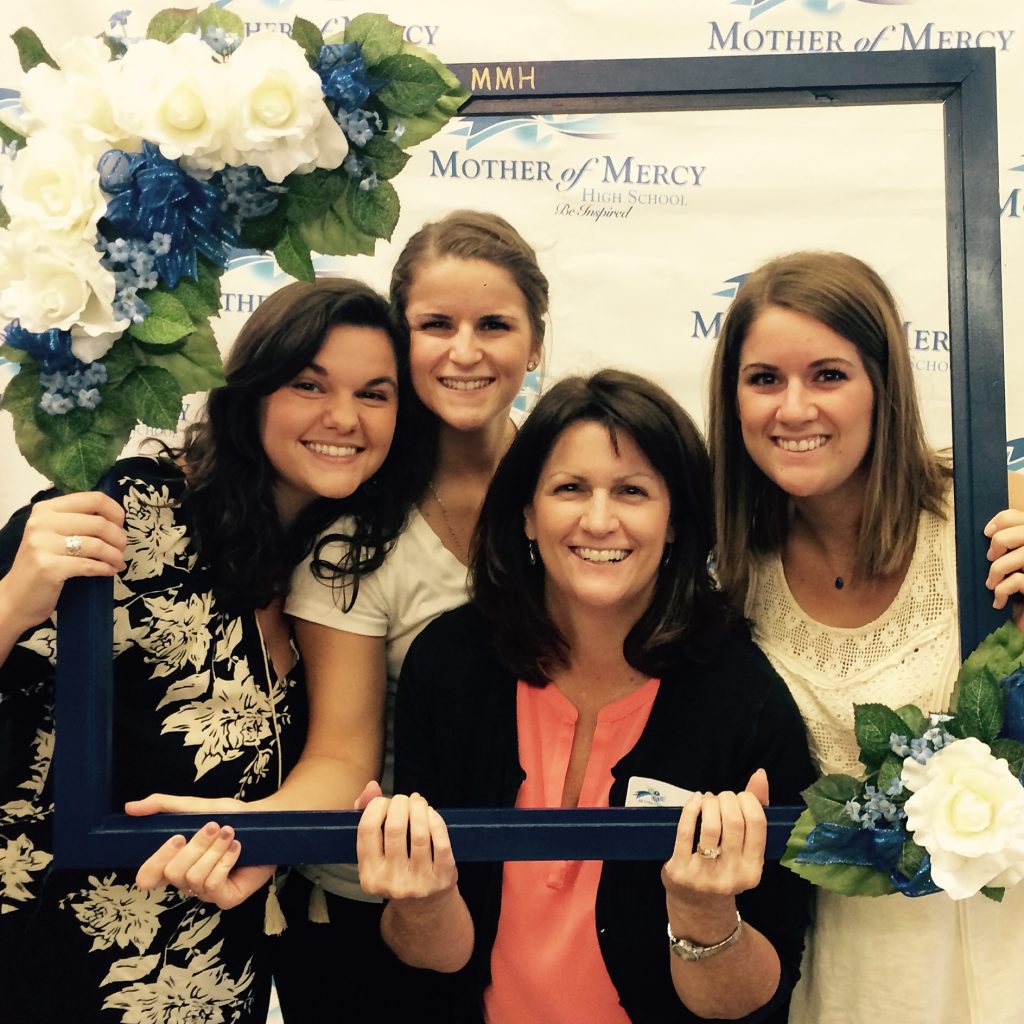 Legacy of Mercy education will continue, despite loss of beloved home
For a last look video at Mother of Mercy High School, click here
from our June 2018 print edition:
By Eileen Connelly, OSU
The end of this school year is bittersweet for alumnae of Mother of Mercy in Westwood, as the high school, founded by the Sisters of Mercy in 1915, closes its doors. While young women will no longer walk the building's hallowed halls, they'll always carry with them the memories made there, and Mercy education will remain strong in Cincinnati with the establishment of the new Mercy-McAuley High School.
The Sisters of Mercy announced in March of last year that both Mercy and McAuley high schools would close due to declining enrollment. The congregation is currently in talks with Cincinnati Public schools to purchase the historic structure, and the new school will be housed at McAuley's current campus (look for memories from McAuley alums in our July issue).
Charlene Firstos Hatton, Mercy class of '57, is moved to tears when she speaks of her alma mater, describing it "as a very special place."
Hatton, an only child, grew up on nearby Epworth Avenue, and attended Mercy from kindergarten through 12th grade when it also operated as an elementary school. "It was such a big part of my life and will always be a part of me," she said.
Hatton went on to become a math teacher and was a faculty member at McAuley for 13 years. While grieving Mercy, she's optimistic about the new school. "We have the same values and I'm hoping for great success," she said.
A member of the class of '66, Carolyn Hillebrand Abrams recalls being in journal- ism class when then-principal Sister Mary Perpetua announced that President John F. Kennedy had been assassinated. She also re- members wearing the required saddle shoes (every girl wanted the authentic Spalding brand), on-site student retreats, spring drama and piano recitals in the theater, and the grand marble staircase that was o limits to students until graduation.
"I thoroughly enjoyed my high school years and look back fondly at the great friends, teachers, and experiences," said Abrams, who studied nursing at the College of Mount St. Joseph (now Mount St. Joseph University). "Some of my closest friends today are friendships from those four formative years. I arrived as a naïve freshman and left ready for college."

For Margee Garbsch, class of '81, the fact that attending Mercy literally runs in the family, leaves her with very mixed emotions as the school year ends. Her mother, Patricia Schlimm, graduated in 1953.
Her three daughters also attended Mercy. Claire graduated in 2014, Ellen in 2016, and Grace is a member of the school's final graduating class.
Arriving at Mercy from a small Catholic elementary school, Garbsch said, "the rst few weeks were rough, but I found my stride. I really feel the all-girls atmosphere is empowering, although you don't necessarily realize that when you're 14. I was quiet and shy going in, but I feel like I was encouraged to figure out what I was good at and harness my gifts. I wanted the same thing for my daughters."
What really budded for Garbsch at Mercy, she said, was her love of writing and passion for social justice. As a result, Garbsch has worked her entire adult life in communications, and currently serves as director of communications at DePaul Cristo Rey High School (DPCR).
While sad that the school is closing, Garbsch said, "I'm just grateful that the Sisters of Mercy education is continuing. Life changes, things evolve. Working in education, you can't stand still. It's wonderful that there's going to continue be a school that continues to teach the Mercy core values: faith, compassion, service, excellence and leadership."
Grace Garbsch said graduation on May 30 will be bittersweet "We're sad because we have so many amazing memories, but happy there will be a new school where young women can learn the values that are so important today," she said.
"Mercy has been like home to so many people and there's such an air of community. I think the faculty and staff have done a great job making this last year so special for us. We've become stronger since we've stuck together."
Garbsch will be attending Marian University in Indianapolis in the fall, and hopes to become an attorney. "I've grown because of all the leadership opportunities and the chance to make connections with people of different backgrounds," she said.
Mary Mazuk, class of '94, said it was the "natural thing" for her and her sisters (Colleen, '90, Kathy, '92 and Tricia, '97) to attend Mercy. Their grade school, Our Lady of Lourdes, was a feeder school and their mother, Eleanor McSwiggin, taught AP United States history there.
During her high school years, Mazuk was involved with every aspect of drama, from staging and lighting to doing makeup. She continued to use those skills in college, directing and producing musicals, and is currently involved with Our Lady of Victory Grade School Players.
"I love the old building absolutely," said Mazuk, who works as director of the Academic Advising Resource Center at Mount St. Joseph University. "But I would rather have Mercy education continue than not have it at all. Mercy education gives young women a good basis in critical thinking and a different worldview than you would receive at other schools."
"I always envisioned myself at Mercy," said Julie Murray, class of '10, whose older sister, Katie, is a 2005 graduate. "There was no other school on my radar." She played volleyball all four years, and became active in campus ministry and community service.
Murray described Catherine McAuley (foundress of the Sisters of Mercy) as one of her heroes. "In high school, we took her story to heart," she said. "We were given the opportunity to develop our beautiful gifts and talents and recognize that we can change the world.
"I'm really looking forward to what the future holds for the new school and the opportunity for more young women to be touched by the tradition of Catherine McAuley," added Murray, now a religion teacher at DCPR. "The legacy of Mercy education will continue!"
"I come from a big Mercy family," said Jackie Hart Feist, class of '09. "My first steps were probably in Mercy's gym."
Her mother, Nancy Hisch Hart, graduated from Mercy in 1982, and sisters Allie Hart Smogor and Olivia Hart are '09 and '11 alums.
Inspired by the faculty at Mercy, Feist felt called to follow in their footsteps and now teaches English with Fair eld City Schools. "Mercy was such a safe place for me to grow. I wanted to provide the same thing for other young people.," she said. "I feel like I bring a little of Mercy to Fairfield."
Feist's unique Mercy moment was a surprise arranged by her family, under the guise of an interview with the school's magazine. Instead, when she entered the theater department where she had spent many hours as student, she found the stage lights on and her high school sweetheart, Joel, standing there with roses, waiting to propose. "I couldn't think of a more perfect place for him to ask me to marry him," she said.
"Mercy is more than teenage nostalgia for me. It's intricately knitted into the fabric of my family. It helped shape all of us. That's why I have no other choice but to be optimistic for its future, and I'm going to do whatever I can to make sure my daughters have a school and a legacy that they can be as proud of as the one that my parents and that building did for me."